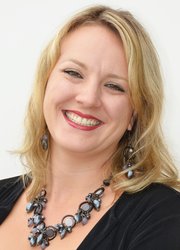 Noelle Leavitt Riley is the managing editor of the Craig Daily Press and the Saturday Morning Press. Her growth in media stems from learning how to handle certain situations under pressure as an editor, reporter, broadcaster and volunteer. She was a pioneer of multimedia in Colorado, helping The Denver Post create, launch and maintain daily podcast from 2005 through 2006. After her venture at the Post, Leavitt Riley became the news editor of four community newspapers west of Denver operated by Landmark Community Newspapers. In 2007, she took a reporting position at the Denver Business Journal, covering hospitality, tourism, retail and aviation.
She left the journal in December 2008, to freelance and run the Forget Me Not foundation — an organization that delivers flowers to seniors in nursing homes, letting them know they are not forgotten by society. She started at the Craig Daily Press in May of 2013 and looks forward to continuing her growth in journalism through this position.

Recent Stories

After the Fourth of July Parade, the local Veterans of Foreign Wars hosted a community barbecue at Veterans Park, where nearly a hundred Craig residents flocked for free hamburgers and hot dogs.

Fourth of July brought pride, respect and merriment to the Craig community as they participated in the parade and fireworks on the nation's birthday.

Megan Jones won best hair stylist and her salon won best hair salon in Moffat County.

After less than six months of being in business, the owner of Stacks Smokehouse closed the doors to his restaurant due to Craig's economic uncertainty in light of what's happening at Colowyo Coal Mine.
For five years, a massive conservation effort across 11 states has been under way to protect the greater sage grouse in hopes that this September, the U.S. Fish and Wildlife Service would find the bird "not warranted" for listing under the Endangered Species Act.

More than 450 businesses requested that their names be removed from the WildEarth Guardians' website after Craig businesses boycotted New Belgium Brewing Company for being listed as a supporter of the environmental group.
Mary Jo Brown stopped writing for the Craig Daily Press a few weeks ago due to health conditions, leaving a large hole in the newspaper each Monday.

Country school teachers and students unite
Saturday is a big day for those who attended and taught at rural country schools in Northwest Colorado. A large Country School Reunion will bring generations of students and teachers together at Moffat County Fairgrounds who haven't seen each other in a long time. The reunion starts at 11 a.m.
Craig's well-known photographer extraordinaire Janele Husband was honored with two awards at the National Photography Show in Louisville for her photo titled "Mystery Dancers."
Six New Belgium Brewery representatives visited Craig this week after several local business owners pulled the company's beer for supporting WildEarth Guardians, the environmental group that litigated against Colowyo Coal Mine and Trapper Mining, Inc.
Recent photos