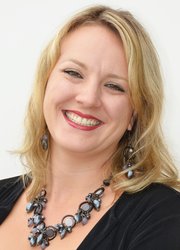 Noelle Leavitt Riley is the managing editor of the Craig Daily Press and the Saturday Morning Press. Her growth in media stems from learning how to handle certain situations under pressure as an editor, reporter, broadcaster and volunteer. She was a pioneer of multimedia in Colorado, helping The Denver Post create, launch and maintain daily podcast from 2005 through 2006. After her venture at the Post, Leavitt Riley became the news editor of four community newspapers west of Denver operated by Landmark Community Newspapers. In 2007, she took a reporting position at the Denver Business Journal, covering hospitality, tourism, retail and aviation.
She left the journal in December 2008, to freelance and run the Forget Me Not foundation — an organization that delivers flowers to seniors in nursing homes, letting them know they are not forgotten by society. She started at the Craig Daily Press in May of 2013 and looks forward to continuing her growth in journalism through this position.

Recent Stories
Hope, giving, caring and camaraderie are a few of the words that come to mind when thinking about nonprofits in our community.

Moffat County Youth United Way teaches students how to run a board and allocate money to non-profits in the community.

Moffat County United Way is the thread to funding, support and communication for our local nonprofits.

Have you ever been so down and out that you can't afford food? It's an unfortunate reality for many, which is why the Interfaith Food Bank exists — to help put food in the bellies of those who can't pay for groceries.

Love is expressed in many ways, but perhaps the most powerful way to show someone you love them is to stand by their side during rough times. That's exactly what Ed Coverston has done for his lovely wife Corky, who is fighting triple negative breast cancer.
Craig Police Department is warning residents to screen their calls due to an IRS tax scam where bogus tax agents are trying swindle money out of folks by claiming they owe back taxes.
Next week, Moffat County will say hello to a new county assessor, treasurer, commissioner and sheriff. But first, the community has to say goodbye to Robert Razzano, Elaine Sullivan, Tim Jantz and Tom Mathers.

You'd be hard-pressed to stop by Tina Williams' house and not see foster animals running around. For the last 8 years, she's fostered cats, kittens, dogs and puppies in need of warmth, love and food. She also volunteers at the Moffat County Humane Society, helping with a variety of duties.

The senior citizens in Craig are a dedicated group of highly intelligent and compassionate people.
A 17-year-old Moffat County High School student was killed Friday afternoon after his pickup collided with a semi truck on U.S. Highway 40, according to police officials.
Recent photos