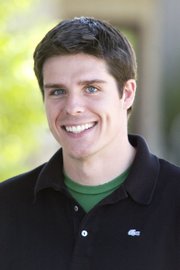 Mike McCollum covers education and the environment for the Pilot & Today. He began working at the paper on June 5, 2007. Mike has a masters degree in journalism from the University of Colorado at Boulder and bachelor degrees in English and mass communications from Auburn University in Alabama. He has worked as a general assignment reporting intern for the Greeley Tribune and The Denver Post, as well as a TV reporter for Georgia Public Broadcasting. Prior to coming to Steamboat Springs, Mike was the assistant news editor and cops/courts reporter for the Commercial Dispatch in Columbus, Miss. He has also worked as a video editor for Mountain Sports Media in Boulder. Mike's hometown is Atlanta, Ga. He enjoys hiking, reading, basketball and spending time outdoors with his golden retriever, Brinkley. He misses southern food and afternoons watching his beleaguered Atlanta Braves, but he's eagerly awaiting his first full season of skiing.
Recent Stories
Queen Elizabeth was coming for a visit, and the challenge was to put her to work doing household chores.

Contributions by black Routt County residents immeasurable
The stern, coal-dusted faces of about 20 miners are fixed straight ahead in a 1942 photograph of a Moffat Coal Mine crew. The unity of the racially diverse men belies the segregation of the era.
Electric co-op might raise rates by as much as 5 percent
Yampa Valley Electric Association customers may soon see rates rise 3 percent to 5 percent, according to officials from the region's energy co-op.
Quiet holiday season for Routt County law enforcement officials
Routt County residents rang in 2008 with a walk on the mild side, law enforcement officials said Monday.
Rescuers endure 13-mile snowmobile ride to recover body
Routt County Search and Rescue workers endured sub-zero temperatures and a 13-mile snowmobile ride Saturday night to recover the body of a 62-year-old Craig man who died in his hunting cabin north of Hayden.

Julie Taulman and Shelly St. Pierre are one step closer to seeing a playground accessible to their sons, and all children, after the Steamboat Springs School District contributed $50,000 to the cause Tuesday.
A school official is questioning a plan to install security cameras in Steamboat schools, citing authoritarian measures in George Orwell's classic novel "1984."
Salvation Army seeks recruits to man area kettles
The sound of ringing bells outside grocery and department stores from hearty Salvation Army volunteers has become as much a part of the holidays as Christmas carols.
Sure, buying a Christmas tree off the blacktop in a parking lot is a popular option, but some residents continue to choose the old-fashioned method and head to the forest for their perfect evergreen.

Storm forecast for today could bring end to mild fall weather
The brown of autumn could soon be replaced by the white of winter - and just in time for the Thanksgiving holiday. Steamboat Springs could receive between 2 and 5 inches of snow from a storm moving into the region today, said Ellen Heffernan, a meteorologist with the National Weather Service in Grand Junction.