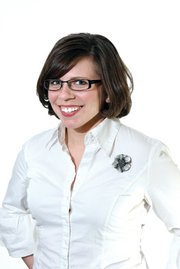 Michelle Balleck began her tenure at the Craig Daily Press as a photographer and features writer in October 2004. Michelle is originally from Ohio, the youngest of five children.
She has a bachelor's degree in psychology and a certificate in journalism from Indiana University in Bloomington, Ind.
She is married to Keith Balleck and has a 9-year-old stepson. She enjoys photography, sewing, interior decorating and scrapbooking.
Recent Stories
n February 8 to 11, 2012, Connections 4 Kids early childhood council hosted its inaugural Cherish the Little Things art show featuring 210 pieces of art by 175 artists in preschool through high school. The event was a wonderful way to showcase the work of these talented youths, and the community was so supportive of the children, their art and our efforts. Thank you to the 14 art patron businesses and organizations that supported the show and Connections 4 Kids. And thanks to our "friend" organizations that made in-kind donations to help make our show a great experience for the artists and the community. I would like to thank our council chairwoman, Corrie Ponikvar, especially for the time and energy she put into this show.
There's plenty on the calendar for this weekend, with a range of feel-good activities to heel-stomping fun, many geared toward throwing you full-force into the holiday season. But, before I tell you what's planned, a couple of personal notes first. This will be my final Livin' It Up column, and next week you'll see a new face here. I am moving onto a new challenge and am very excited. Also, I'd like to shamelessly use this space to wish our little man happy birthday today. He's now 9, and a "tween" — yikes. Happy birthday, Shane!
There's plenty of indoor fun on the docket for this weekend, when it's forecasted to snow some more. Get into the holiday spirit with craft shows, a turkey giveaway, a donation collection and the adorable "Happy Feet Two." ■ Everybody cut "Footloose" at Moffat County High School's performance of the famed musical this weekend. The show is scheduled for 7 p.m. Thursday and Friday, and 2 and 7 p.m. Saturday at the high school auditorium, 900 Finley Lane. The cost is $5 per person at the door. Call the high school at 824-7036 for more information.
There's music and food and movies and shopping. What else could you ask for in a weekend? ■ Rock out with Chancey Williams this weekend at the Sports Page Bar at the Holiday Inn of Craig, 300 S. Colorado Highway 13. The band takes the stage at 9 p.m. Friday and Saturday, but drink specials start at 5 p.m. each night if you're looking for pre-game action.
Halloween is over, and now's when we all get settled in for a long winter. Oh the joy. Stores already have their Christmas decorations and merchandise out. Only 52 shopping days left.

Kayden Hinson, 5, kept a smile on her pink lips as she waited for her family to catch up on Yampa Avenue. The best parts about Halloween, Hinson said, were getting to wear her grandmother's lipstick and her mother's eye shadow.
The Moffat County Tourism Association Board expressed its desire to move forward in its mission at a special meeting Wednesday. The board approved signing a contract for new office space and discussed finalizing revisions to its memorandum of understanding with the Craig Chamber of Commerce, City of Craig and Moffat County. "Sales and marketing is our mission. I want to do that. That's the fun part," board member Kerry Moe said.
It is officially Halloween week. Get pumped for free candy, costume mania and big scares. Plus, there's Crabfest, one of those events to look forward to all year. ■ It's party time. Excellent.
It's that time of year again, where pumpkins, ghosts and cobwebs reign supreme. There are several autumn-themed, and sometimes spooky, activities planned that will keep you in the spirit of the season. ■ Prepare to be scared as American Legion Post 62 offers its haunted house beginning this weekend at Centennial Mall, 1111 W. Victory Way.
The Craig Chamber of Commerce Board approved Thursday pursue bringing Cinda Baxter, founder and president of The 3/50 Project, to Moffat County to present the program to small business owners. The project, launched in 2009, encourages consumers to choose three independently owned businesses they would miss if they were gone and to spend $50 each month in those types of businesses.
Recent photos