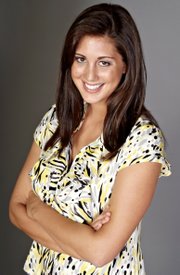 Mari Katherine Raftopoulos was born and raised in Craig, Colorado. She is a graduate of the University of San Diego in San Diego, Calif. During the summer of 2007, she interned with the Craig Daily Press and now contributes columns regularly.
Read her blogs at mkslittleblackdress.blogspot.com and www.craigdailypress.com/weblogs/comfortably-uncomfortable-discoveries-outside-of-y/.
Recent Stories
It was yet another trip to the airport. It was starting to seem like the drive to the airport was part of my commute and the economy lot my best friend. The traffic, parking lot, lines, security and, well, the airport bar were consuming most of my weekend routine.
As I grow older, I notice more and more the traits that I carry on from my parents. Aside from the dominant Greek genes, it is the little mannerisms that often make me stop and say, "Wow, I sounded exactly like my mom." It's from the way I drive with my head resting on my left hand to the way I plant flowers.
Choices. We have so many in our everyday lives, from the clothes we wear to work every day, to the way we like our coffee in the morning, to how we spend our free time, and let's not even get started on dissecting the grocery store and the endless amounts of options for your cart. At the end of the day, choices consume nearly our every minute. Looking at it like this is very overwhelming, so much so that it is easy to stick to the norm out of the fear of uncertainty.
Easter for my family has always been a favorite. Easter means spring is in blossom and summer travel and warm nights are on the horizon. But, most importantly, Easter in the Greek tradition means many nights spent in church, a fasting that teaches discipline, a lamb feast that gives reward and the most cherished and honored time of year.
These are the reminders of why I came here: the painted wine bottles in the window sill; the Christmas lights draped from corner to corner across the red ceiling; my roommate peering over her large foamy latte to hide her people watching; and the couples bundled up for a cozy Sunday stroll. As I look out the coffee shop window, this street holds so many memories of my time in Denver so far. This coffee shop in particular used to be new to me, and so did the restaurant across the street, the flower shop next door, the last stop neighborhood bar at the end of the road and those mysterious neighbor boys.
I always found time to be alone while living in San Diego, whether it was in a coffee shop, in a random beach neighborhood, out for a jog or walk on the beach, or even on one of my aimless drives up the coast. My time spent alone in San Diego was my moment to process my growth. And while my group of friends in college was nearly inseparable, we all found time to process our experience.

A tribute to late Moffat County Commissioner Marianna Raftopoulos
You knew her as Mrs. Marianna Raftopoulos, a Moffat County Commissioner, Colorado Division of Wildlife commissioner and a prominent woman of the West. I knew her as Mom, best friend, confidant, and sometimes "Mert," the nickname given to her as an eager child. I could recount all the impressive boards and organizations she was a part of, that she was the first female county commissioner, helped put Craig on the map via telecommunications, or in her more recreational moments, was the Moffat County High School Bulldogs biggest fan.
We all huddled around the island counter chopping onions, (three bundles per pan, to be exact), slicing spinach (four big handfuls per pan, to be exact), and crumbling up feta (half of a container, to be exact) in order to make Spanikopita for the infamous Greek New Year's Party. We started with the plan of making three pans in a couple of hours. Well, three pans turned into five, plus some pita rolls. A couple of hours escalated into an entire afternoon, some holiday drinks, and classic country music 2-steps and sing-a-longs.
Every year, when my mom started on her Christmas kick, it was as if Santa came to town and filled our house with the most vibrant holiday cheer. My mother was so good at Christmas, as both a child and an adult, it was hard for me to believe that there wasn't a magical element intertwined in all of her holiday décor and spirit. There wasn't an inch of our house that wasn't festive, a minute didn't go by in our day that wasn't filled with an advent calendar chocolate and there wasn't a single night in December without every Christmas light lit around the house.
As a child, my mother would have to bribe me to get me on the mountain to ski, but when it came to the ocean, I would jump right in. The idea of flying down a slippery slope at high speeds terrified me, partly because at that age I was attached to my mother, and anything that didn't include her, like ski lessons, weren't worth my time. It is amazing that much like our tastes change as a kid, so do our hobbies and passions as we grow up.
Recent photos