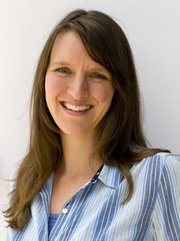 Lauren Blair covers the health care and education beats in Craig and Moffat County. A Colorado native, she graduated in 2005 from Mount Holyoke College in South Hadley, Massachusetts, with a Bachelor of Arts degree in critical social thought.
Blair relocated to Craig from Denver in July of 2014. She has worn many hats in her work life, including that of wedding and travel photographer, blogger, bakery manager, personal chef and instructor for Outward Bound outdoor education programs. Journalism is the perfect avenue for her to indulge her many curiosities and interests, and she relishes the opportunity to grow each day as a journalist, writer, photographer and human being. When not burning the midnight oil in the newsroom, Blair can be found in her kitchen inventing new recipes, pondering the meaning of life with her boyfriend, Yuri Chicovsky, and their two kitties, jamming out to soul tunes and Beatles records, and exploring the far reaches of this beautiful state with camera in hand.
Recent Stories
Janell Oberlander may be new to Craig, but she's no stranger to the rural West.

January was a banner month for babies at The Memorial Hospital in Craig. As of Thursday, the headcount for babies born in the hospital's birthing center was 15. With only three babies born in January of last year, this equates to a 500 percent bump in births.

The sound of hundreds of happy children poured out of the gymnasium at the Boys & Girls Club Tuesday night in Craig during the Literacy Carnival.
District might ask community for funding
Moffat County School District is facing a sixth year of possible major budget cuts, but this time there's nothing left to cut outside the classroom.

Brown over white: whether it's rice or bread, we've all heard by now that whole grains are better for us than their refined — and often white — counterparts.

At its monthly meeting, the Colorado Northwestern Community College Board of Control discussed two recently acquired grants and new programming, met new CNCC Vice President Janell Oberlander and discussed the cost of repairs to the roof of Trapper Fitness.

Craig Youth Hockey Association's Midget team lost twice to Steamboat Sunday, but not without putting up a fight.

If there's one thing you make the effort to eat more often, let it be kale. Its loaded resume of vitamins and nutrients have implicated kale in a variety of studies linking the consumption of dark, leafy greens to cancer prevention and cardiovascular health.
Expanded English Language Learners program addresses need
Students in Moffat County that don't speak English as their primary language are getting some extra help in the classroom this year.
Recent photos