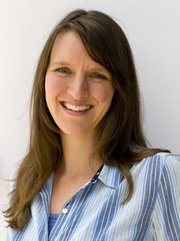 Lauren Blair covers the health care and education beats in Craig and Moffat County. A Colorado native, she graduated in 2005 from Mount Holyoke College in South Hadley, Massachusetts, with a Bachelor of Arts degree in critical social thought.
Blair relocated to Craig from Denver in July of 2014. She has worn many hats in her work life, including that of wedding and travel photographer, blogger, bakery manager, personal chef and instructor for Outward Bound outdoor education programs. Journalism is the perfect avenue for her to indulge her many curiosities and interests, and she relishes the opportunity to grow each day as a journalist, writer, photographer and human being. When not burning the midnight oil in the newsroom, Blair can be found in her kitchen inventing new recipes, pondering the meaning of life with her boyfriend, Yuri Chicovsky, and their two kitties, jamming out to soul tunes and Beatles records, and exploring the far reaches of this beautiful state with camera in hand.
Recent Stories
With the excitement of homecoming pervading the halls and grounds of Moffat County High School, the Moffat County Board of Education meeting Thursday at MCHS library began with a celebratory air.

Making the most of the upcoming ski season means preparing for the slopes well before the first chairlift ride of the winter.

Take a moment to consider when you last had the chance to talk with someone on a deep level about who they are, where they came from and why they act, speak and think the way they do. How often do our busy lives afford us this opportunity? And even when they do, how many of us take the initiative to reach out and start the conversation?

Funding discussion held in Craig
Affordability, access and employability emerged as important issues for higher education in Northwest Colorado at a meeting held Thursday to discuss statewide higher education funding.
The Memorial Hospital in Craig has seen some numbers to be happy about in its financial reports in recent months. The hospital experienced a rough financial ride last year, cycling through two CEOs and laying off staff because of low volume, but 2014 seems to be showing a promising turnaround for the organization.

Members of Moffat County youth- and education-related organizations gathered Tuesday morning to hear the latest data from the Colorado Children's Campaign's 2014 "Kids Count in Colorado!" report, which compiles data from the Colorado Department of Public Health and Environment to assess early childhood development, child health and education throughout the state.

Craig's new Senior Social Center is gaining some serious traction. The organization met for its first official annual meeting Monday night to elect permanent board members and unveil its most recent milestones.

The Moffat County Cross-Country Invitational went off without a hitch Saturday morning at Loudy-Simpson Park in Craig. A small but respectable showing of five teams made for some fierce competition in the high school races.
Access. That is the key word Colorado Northwestern Community College President Russell George used to describe CNCC's mission Saturday night at their annual fundraiser dinner on the Craig campus.
Seven members from the Colorado Community College System board visited both of Colorado Northwestern Community College's campuses Monday in Rangely and Craig. The annual visit included a tour of each campus highlighting new developments and featured programs at the college.
Recent photos