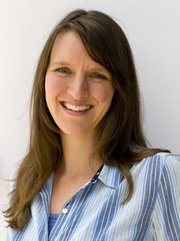 Lauren Blair covers the health care and education beats in Craig and Moffat County. A Colorado native, she graduated in 2005 from Mount Holyoke College in South Hadley, Massachusetts, with a Bachelor of Arts degree in critical social thought.
Blair relocated to Craig from Denver in July of 2014. She has worn many hats in her work life, including that of wedding and travel photographer, blogger, bakery manager, personal chef and instructor for Outward Bound outdoor education programs. Journalism is the perfect avenue for her to indulge her many curiosities and interests, and she relishes the opportunity to grow each day as a journalist, writer, photographer and human being. When not burning the midnight oil in the newsroom, Blair can be found in her kitchen inventing new recipes, pondering the meaning of life with her boyfriend, Yuri Chicovsky, and their two kitties, jamming out to soul tunes and Beatles records, and exploring the far reaches of this beautiful state with camera in hand.
Recent Stories

Students and parents filled the auditorium in Moffat County High School Tuesday night to honor 135 students for a wide variety of academic and extracurricular accomplishments.

Three Moffat County School District teachers were caught by surprise this month when they were presented with Peabody Energy Leader in Education awards, complete with $1,000 checks, in front of their students and peers.

Moffat County High School will be graduating two sets of twins this year, one of which has made a name for themselves in music and another in sports. Laura and Ryan Secules picked up instruments in sixth grade in John Bolton's band class and never looked back, while Lauren and Alex Samuelson launched from a full line-up of little league sports into MCHS's athletics program.
Moffat County High School's freshest crop of graduates are making big plans for the future. From engineering to agriculture to culinary arts, here's a sampling of what's ahead for the class of 2015...
Colorado Northwestern Community College graduates and their families filled the Colorado Room on the Rangely campus like never before for the May 9 graduation ceremony.

Integrative approach reaches more with mental health challenges
May is Mental Health Month and though stigma still exists around issues related to mental health, Mind Springs Health and Northwest Colorado Visiting Nurse Association are working to reach those who need support.

Craig Middle School students swept the regional competition for the Stock Market Experience this year, snagging the top three places both semesters. Seven students from Virginia Pugh's financial literacy class celebrated their success with an awards presentation in Denver Friday.
Cardiorespiratory exercise refers to activities that are focused on improving your heart and lung health. The American College of Sports Medicine recommends that adults should be getting at least 150 minutes of moderate-intensity exercise each week to improve cardiorespiratory function.
The Moffat County Board of Education will not seek a mill levy override in the November 2015 election to increase school district funding but is still considering it as an option in 2016.
The Ed Townsend Memorial Scholarship is designed to support students pursuing an education degree. However, the scholarship criteria, which has been in place for more years than anyone can remember, has raised some eyebrows amongst educators, administrators and school board members.
Recent photos