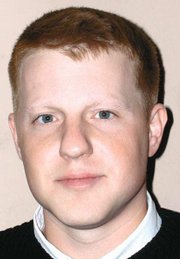 Joshua Roberts, Craig Daily Press editor, grew up in Kansas City, Kan., and attended Kansas University. He began working for The World Company in 2001, and immediately fell in love with journalism.
He came to the Daily Press in 2006 as the assistant editor, and found a home away from home in the Craig and Moffat County community.
Joshua has a fondness for feature writing and crime and courts reporting, and contends he works with the best newspaper staff in the state each day.
Outside of the office, Joshua enjoys reading, writing, and playing golf and basketball.
He is an avid fan of his Kansas Jayhawks and hometown Kansas City Royals and Kansas City Chiefs.
He is raising a pit bull puppy, Cassius, which he adopted from the Humane Society of Moffat County in October 2009.
He also coaches youth basketball in the community.

Recent Stories