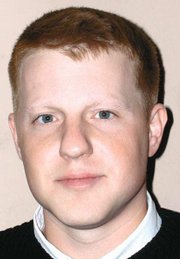 Joshua Roberts, Craig Daily Press editor, grew up in Kansas City, Kan., and attended Kansas University. He began working for The World Company in 2001, and immediately fell in love with journalism.
He came to the Daily Press in 2006 as the assistant editor, and found a home away from home in the Craig and Moffat County community.
Joshua has a fondness for feature writing and crime and courts reporting, and contends he works with the best newspaper staff in the state each day.
Outside of the office, Joshua enjoys reading, writing, and playing golf and basketball.
He is an avid fan of his Kansas Jayhawks and hometown Kansas City Royals and Kansas City Chiefs.
He is raising a pit bull puppy, Cassius, which he adopted from the Humane Society of Moffat County in October 2009.
He also coaches youth basketball in the community.

Recent Stories
She went to district court July 30 in Centennial to get a better look at the shadowy figure she and her friends escaped just 10 days before. A survivor of the man's rampage, she laid eyes on the 24-year-old with dyed hair and dazed expressions. She felt neither anger nor hatred. "I felt pity for him," said Jacque Archuleta, a Craig native and Englewood resident. "Here's this educated man and he's going to spend the rest of his life in jail or lose his life because he made this horrible, horrible decision.

Michael O'Hara up for retention in November election
The 14th Judicial District Commission on Judicial Performance, a group of 10 people in Moffat, Routt and Grand counties, has unanimously recommended voters retain the district's chief judge in November. The commission, which includes four attorneys and six non-attorneys, reviewed Chief Judge Michael O'Hara, a Steamboat Springs resident and Southern California native. O'Hara was appointed to the 14th Judicial District in 2003 by then-Gov. Bill Owens. "Judge O'Hara is an extremely knowledgeable, hardworking individual," said Sharon Timmerman, a Steamboat Springs resident and co-public information liaison for the commission on judicial performance. "I feel we're fortunate to have him in the 14th Judicial District."

Renee Campbell, a Hillsdale, Mich., native, said she hadn't spent a minute of her life volunteering to nonprofit agencies before 2006. Then she moved to Craig. Geography made all the difference, she said. "Before I moved to Craig, I had never been involved with the community (I lived in)," said Campbell, director of sales and marketing at the Holiday Inn of Craig. "Now I really enjoy it. I like getting to know people, getting involved in the community. It's just been something I've grown to love."

Life hasn't been easy for Jeana Weber since Christmas 2010. Her husband, Jim Weber, a 47-year-old Craig resident and maintenance mechanic at Trapper Mine, committed suicide that day, bringing a heartbreaking end to a nearly 30-year marriage that produced three sons — Jimmy, 29, Ty, 26, and Levi, 22 — and three grandchildren. Jeana, 47, a veteran dispatcher for the Colorado State Patrol at the Moffat County Public Safety Center, had 11 months to heal before tragedy dealt another blow. On Sept. 22, 2011, Levi also killed himself.

Wanna play a game? The 8-year-old second-grade girl was in the living room of her Craig home, killing time watching television on a lazy day. She was with her stepfather, "Jody." They were alone. The girl looked up from the TV.
A Craig Police Department, Moffat County Sheriff's Office and FBI joint investigation that began in December 2011 into distribution of child pornography led to the arrest of a 39-year-old Craig resident, police reported Wednesday in a news release. The suspect, who lives in the 2000 block of Crockett Drive, was arrested on suspicion of sexual exploitation of a child. The newspaper is withholding the suspect's name in accordance with a policy not to release the identities of suspected sexual offenders unless convicted. According to court records, the suspect is charged in Moffat County Court with solicitation to commit aggravated incest, solicitation to commit sexual exploitation of children, and solicitation to commit sexual assault on a child by someone in a position of trust, all Class 4 felonies.
Just tell the truth, I love you, everything will be fine, I said to the friend wrapped inside my arms. We were on the courthouse's second floor, sharing a quick hug, she seconds from testifying in the custody case, me awaiting outcome of the closed hearing in the hallway. My final words — everything will be fine — were a lie. I didn't know it then, but I'd deceived her. She disappeared behind wooden doors into the courtroom, believing she'd keep her miracle, the orphaned infant boy who appeared like heaven's reward. I should have known better, that hope and good intentions only go so far. I should have warned her.
(Writer's note: The majority of this column was written Sept. 11, 2001, and in the early hours of the following morning. It appears today with revisions.) Before this morning, I thought I'd do anything to cover a war. Now, I just feel guilt for being asleep while people were helpless and dying.
How the U.S. women's team convinced a soccer idiot of the sport's legitimacy
It's a foreign concept to me, this strange sport called soccer. I've read it's the most popular game in the world, and maybe there's some truth behind the title, given the ruffian nature of some fans (1), but forgive me, global community, for not exactly picking up what you were putting down. Call me an ugly American, if you'd like.
The idea for the section you're about to read came, simply enough, from an offhand comment in a casual conversation, probably during lunch or an idle moment at the office. "Moffat County wouldn't be where it is without women." I don't remember who said it or the context, so the author remains anonymous for today's purpose.