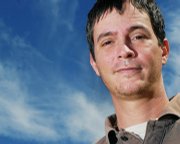 John Vandelinder joined the Craig Daily Press in August 2007. He graduated from Palm Beach Community College with communications degree, and has won several awards as a baseball play-by-play broadcaster. Now, he's trying his hand in the print form of journalism, a field he says he "loves way better" than radio. In his free time, he enjoys golfing, as well as reading and watching crime novels and shows. And sports, of course.
Recent Stories
To those who believe hockey is a man's sport, Glenda Bellio begs to differ.

Moffat County wrestling coach Roman Gutierrez stood at the head of the high school's common area with a somber look on his face and a serious tone to his voice.

Caddy, Pontine lead 7 placers in Denver tournament
The Bad Dogs youth wrestling team made the most of its final appearance in a national event last weekend, placing seven grapplers in the top four in the Rocky Mountain Nationals youth wrestling tournament in Denver.

MCHS can't catch a break, falls 5-0
The Moffat County girls soccer team, winless through its first three games of the 2009 schedule, looked to end the early season skid Tuesday in Palisade.

It's still early. The Moffat County High School boys swimming team didn't qualify any swimmers for the state championships in its first competitive meet of the 2009 season Friday and Saturday in Montrose.

Bulldogs blanked on season-opening road trip
Tim Hafey's nightmare beginning to the 2009 baseball has gotten worse. Back-to-back 4-3 and 27-6 losses in Montrose on Saturday were followed up with a 17-0 shelling Sunday in Olathe.

It's not exactly how Tim Hafey pictured the start of the season to play out. The skipper for the Moffat County High School baseball team said he was "disappointed" with Friday's season-opening performance in Montrose.

Moffat County High School baseball coach Tim Hafey stood behind the batting cage on the Craig Middle School baseball diamond.
Fresh off an impressive performance March 6 and 7 in Grand Junction, the Bad Dogs youth wrestling team is once again getting ready to take the show on the road.

The NCAA basketball tournament is called March Madness for a reason.
Recent photos