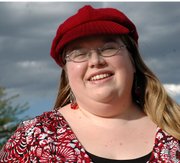 Jennifer "Jenni" L. Grubbs has had more than a decade of experience in newspapers, first as a freelance writer for the Sterling Journal-Advocate while she was in high school. After college, Grubbs returned to Sterling and worked for the Journal-Advocate full-time in several roles, eventually becoming news editor, before accepting the editor-in-chief position with the Daily Press.
Grubbs is a fan of punk and modern rock music and will read anything she can get her hands on. She is an avid rubber-stamper, who creates homemade greeting cards and scrapbooks. You can almost always find one of her more-than-150 newsboy-style hats on her head.
She is very excited to have this opportunity to lead an excellent news-gathering team and provide Craig the best community newspaper possible.
Recent Stories
Recent photos