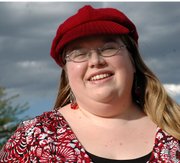 Jennifer "Jenni" L. Grubbs has had more than a decade of experience in newspapers, first as a freelance writer for the Sterling Journal-Advocate while she was in high school. After college, Grubbs returned to Sterling and worked for the Journal-Advocate full-time in several roles, eventually becoming news editor, before accepting the editor-in-chief position with the Daily Press.
Grubbs is a fan of punk and modern rock music and will read anything she can get her hands on. She is an avid rubber-stamper, who creates homemade greeting cards and scrapbooks. You can almost always find one of her more-than-150 newsboy-style hats on her head.
She is very excited to have this opportunity to lead an excellent news-gathering team and provide Craig the best community newspaper possible.
Recent Stories

Getting ready for a prom takes a lot of work.
It's that time of year when the airwaves are flooded with big, over-produced awards shows.
Falling on the ice sure can be a learning experience.
As we get ready to put away our 2008 calendar, it's only normal to think about what we want to do differently in 2009.
One of my hobbies is making greeting cards. I love using my massive collection of rubber stamps, paper, cardstock, ribbon, buttons, beads, glitter and more to create festive, pretty, cute, quirky and elegant cards.
One of the best gifts I have given myself this holiday season is setting aside money to hire a local youth to shovel my sidewalk.
As I prepare for my first Christmas in Craig and away from family on the Front Range, I am reminded of things that once were holiday constants.

The employees of the Community Budget Center know a little something about paying it forward.
I need to buy a snow shovel. That realization hit me Saturday, as I watched the sky turn gray and the land turn white.
One of the things that has been so much fun for me since moving here is getting to visit the restaurants and stores in a new place.
Recent photos