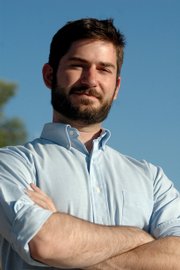 Hans Hallgren began as photographer at the Daily Press in September 2007. He graduated from Metropolitan State College of Denver in 2005 and interned at The Golden Transcript during that time. After graduating he moved to Connecticut to work for The Hour, a daily newspaper in Norwalk, Con., for almost two years. He moved back to Colorado to be close to family in Denver in July. In his free time he enjoys watching movies and working on his art.
Recent Stories

Using a $3,000 grant, the Literacy Council is focusing on community awareness and is handing out free books at upcoming community events in April, culminating in a literacy festival April 29 at the Boys & Girls Club of Craig.

John Zamora, an agent for the Colorado Bureau of Investigation's Identity Theft Fraud Unit for the Western Slope, based in Grand junction, talked about identity theft to a group of more than 50 seniors at the American Legion Post 62.

A day after reportedly falling off his skateboard, resident Shane Braselton, 20, was pronounced dead Wednesday in Grand Junction, Moffat County Coroner Owen Grant said.

Clint Gabbert, 18, is not your average teenager. His idea of a hobby is spending countless hours stringing together lights and tinkering with a computer program to set the display to music.
It can be argued that there is a point when any craft becomes an art form.

Art comes in many forms.

As people began crowding into the American Legion Post 62 on Tuesday afternoon, it seemed, at first, like any other gathering. More than 60 people clustered around, chatting, laughing and eating.

Saturday wasn't a typical bike ride.

The Irish have St. Patrick's Day. Italian's have Columbus Day. German's have Oktoberfest. These are days to celebrate heritage, not only for the people originating from those areas of the world, but for all to appreciate.
A total of 19 workers at the Tri-State Generation & Transmission power plant were taken to The Memorial Hospital early Saturday morning after complaining of flu-like symptoms.
Recent photos