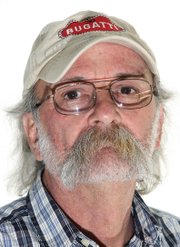 Recent Stories
As my love affair with Craig begins its 40th-plus year, I'm torn between a traditional anniversary gift or mourning the loss of a year or two that "snuck around the back" and got away. I'll listen to reasonable gift ideas from residents, but please, though noble as it may be, keep the idea of "The Last Deer in Craig, America," statue to yourself.
As time passes, you'd think memory would kick in somewhere. But, oh no, we refuse to learn a freaking thing. Men, if you make any comment about your wife's shoes, this is guaranteed — your baseball cap collection will start dwindling.
Every third blue moon or so, something happens or is said that starts a day off with uncontrollable giggle box attacks. For instance, take the 911 call from a disgruntled customer of Chinese takeout. The caller wanted the delivery person and the restaurant arrested for delivering the wrong order. I love Chinese food, but experience has taught me that Jane is the best reminder of what to order, and that no matter how hard I stare at the pictures, I'll never eat the food.
It's strange how the U.S. Food and Drug Administration is starting a new campaign against smokers, complete with pictures of various body parts rotting away, right on the cigarette package. While this may seem a credible use of taxpayer money, one could argue its effects will be noticed more by adults than the beginning smoker. This is certainly not because the younger smoker lacks intelligence of the reported diseases caused by smoking nor the obvious peer pressure that comes along for the ride.
As kids, my brothers and I were surrounded by animals. They were mostly ranch stock, but on occasion there'd be a dog or cat that wouldn't take your arm off just to stay in practice. Cats outnumbered dogs 4-1, "which keeps every mouse headed for La Barge," as Grandma would say to the worthless cousin silly enough to call to a feline that loved fingers for dessert.
It's a warm and cozy feeling knowing President Barack Obama is "concerned" about our economy. Not since President Jimmy Carter has our future looked so gloomy, or perhaps desperate is a better word for it. The unemployment numbers keep going up and the unknown number of people who have resigned themselves to being jobless is skyrocketing.
Maybe it's my grandniece rolling up on 21 years, or living long enough to have a grand anything. Feeling great and grand is pretty fair, although the triple digit stuff is scary. For whatever reason, my 30th birthday party has been rolling around on the weak side's side all week. I'm fairly certain that was the year Roy Southard and I started our foolishness over gifts on the major holidays.
We've had our moment of spring and it's time to put those plants that won't freeze into the ground. Maybe. It's also time for the wrangling, hedgehopping politicians to start the grimy trail to the presidency. I believe several things are absolute in the next year or so. Of course, we'll have the new, much better for you, blame game and the promises will be bigger than ever.
Being paid to hunt, fish and ski while raising your kids, though a gift from the parenting big dog, was at times beyond worry. When away on pack trips, we always tried to leave at least one wrangler at the lodge to feed and move horses from pasture to pasture. The kids would often saddle up and help with each move.
On Thursday morning, I watched news footage of the remains of Joplin, Mo. Throughout the newscast, commentators were nonstop in their whining about how much it was going to cost to rebuild a city that for most residents, is no longer there. Not only is there a path of complete destruction, everything these people owned and cherished, old or new, is gone.