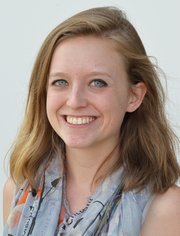 Erin Fenner is the government and cops reporter for the Craig Daily Press. Since then she has written for various publications as a freelancer; including Portland's Willamette Week. She graduated from the University of Idaho with a B.S. in Journalism in 2011. There she dabbled in multimedia internships and also hit the print news scene as an intern for the Moscow-Pullman Daily News. She likes lounging with music, editing soundbites and eating Dutch cheese.

Recent Stories
The home of Tracey and Steve Lathrop was engulfed in flames Saturday morning. Nobody was injured, but the trailer-home was destroyed. Only a shell of the structure remains. The inside of the home was burned completely. Battalion Chief Troy Hampton of Craig Fire/Rescue said the cause of the fire was a propane torch. Steve Lathrop had been trying to thaw a frozen water pipe with the torch, but lost control of the flame.

Weld County District Attorney Ken Buck is campaigning for a U.S. Senate seat, and made a visit to Craig Friday afternoon. It was an opportunity for voters to get to know Buck and see his stance on national issues that could affect Northwest Colorado. Buck will be challenging Sen. Mark Udall (D-Colo.) in the 2015 election. He was direct about his feelings on his opponent.

Even with sub-zero temperatures freezing Craig, philanthropy won out. Volunteers for the 15th annual KRAI and 55 Country Holiday Drive solicited donations outside the Centennial Mall from 6 a.m. to 6 p.m. Thursday. Many stayed outside nearly the entire first day of the drive. It paid off.

Downtown Craig looks ready for the holiday season. Two local businesses moved to downtown in the fall for better visibility, and a new salon opened up in the area.
Ken Buck, Weld County district attorney, is running for U.S. Senate and will be making a stop in Craig on the campaign trail Friday. He started planning his trip the last week in November and but made his visit to Craig official Tuesday, said Brandi Meek, Moffat County chairwoman of the republican committee. "We're really excited for the candidates for the (Senate) to visit," she said.
The Craig branch of the Bank of Colorado welcomed its new president, Joshua Johnson, on Nov. 1. He has been settling into town nicely. Johnson has worked with the Bank of Colorado in its Estes Park location since 2010, but got a promotion and transfer when the former Craig Bank of Colorado president, Alisa Corey, left her position.

Nestled on the east side of Craig, the Luttrell Barn is practically empty. It hasn't hosted an event in years — and it possibly won't ever again. Built in 1904, the barn has been moved, renovated and now faces some difficult questions. Moffat County owns the structure, and it is up to county commissioners to decide whether they want to put a hefty sum of cash toward fixing it up, or if they should let it go: to be demolished or handed over to the Wyman Living History Museum.
Getting high-speed Internet to rural Colorado has been an ongoing issue since the Internet was invented. Audrey Danner, interim director of Craig/Moffat Economic Development Partnership, laughed when she recalled the efforts she and other county leaders took to expand telephone networks in the region in 1996. "We called it high-speed telecommunication back then," she said.
Gov. John Hickenlooper is coming to Craig on Monday. As part of a tour of western Colorado, the governor will be stopping at Colorado Northwestern Community College for a town hall meeting. He will provide a short presentation on some pressing issues, and then turn it back to Moffat County, said Reeves Brown Executive Director of the Department of Local Affairs. Hickenlooper's trip to was spurred by "more than one request for the governor to visit Moffat County," Eric Brown, director of communications for the governor, said in an email.
Moffat County Undersheriff Charlene Abdella announced her bid to run for Moffat County sheriff in the 2014 election on Tuesday. "I would like the opportunity to continue to serve the citizens of Moffat County and do hereby announce my intent to run for the office of sheriff," Abdella said in a statement. That makes her the first woman to run for Moffat County Sheriff. Her undersheriff would be Lieutenant KC Hume.
Recent photos