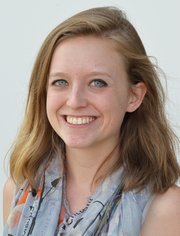 Erin Fenner is the government and cops reporter for the Craig Daily Press. Since then she has written for various publications as a freelancer; including Portland's Willamette Week. She graduated from the University of Idaho with a B.S. in Journalism in 2011. There she dabbled in multimedia internships and also hit the print news scene as an intern for the Moscow-Pullman Daily News. She likes lounging with music, editing soundbites and eating Dutch cheese.

Recent Stories

This was the first time most of them read poetry in front of an audience that wasn't their classroom. But, the winners of the Carol Jacobson Memorial Poetry Contest — a writing competition for Craig Middle School (CMS) eighth graders — paced themselves, enunciated, hit the right cadence and proudly presented their own poems.

The recaps for the April 22 Moffat County Commissioner meeting and City Council meeting.
Advocates Crisis Support Services, a Craig organization that aids victims of sexual assault and domestic violence, is recognizing Sexual Assault Awareness Month by encouraging business to celebrate Denim Day today. The non-profit suggested businesses across the community allow their employees to wear jeans for Denim Day to address the problem of sexual assault and victim blaming, said Sharon Farquhar, executive director of Advocates.
Moffat County has long thrived because of the energy industry — the economic foundation of the community nearly inseparable from its culture. Tourism organizations are looking to highlight that energy history. Nancy Kramer, program coordinator for the Northwest Colorado Cultural Heritage Tourism Project (NWCCHT), partnered with community tourism entities across the state to develop cultural heritage tourism and create an energy trail route as part of her effort to exemplify that particular brand of tourism.
On average, five people each year in Moffat County will take their own lives, said Ronna Autrey, executive director of Reaching Everyone Preventing Suicide. Those suicide deaths have a widespread impact, devastating loved ones, friends and co-workers, she said.
With the weather warming, and the snow melted, people are getting to enjoy outdoor recreation again. One of these activities is shed hunting, which Wendy Reynolds, manager for the Bureau of Land Management (BLM) Little Snake Field Office, said can either be good family fun, or a destructive sport. In early spring, deer and elk start shedding their antlers. This is a prime time for people seeking antlers to find the trophies as they are scattered all across the public land. But, while this is an activity the BLM widely supports, some people are approaching it without considering the impact on the land, Reynolds said.
The recap for the April 15 Moffat County commissioners meeting.
Craig City Council decided to invest money in a project that could help downtown business owners brighten up their storefronts. The project is be a partnership between the city of Craig and the University of Colorado, Denver to develop design concepts for downtown Craig, particularly on Yampa Avenue. City Council voted, 6-0 (Craig City Council member Joe Bird was not in attendance), to use $1,900 of the contingency funds to pay for the concepts.
During the weekend, nearly 20 Moffat County voters took part in the election process by heading to Denver for the Republican State Assembly. The Moffat County delegates attended the district and state assemblies to help determine which Republican candidates would make it onto the June primary.
The controversial gun laws passed in 2013 are now under consideration by a federal judge. After a two-week-long trial, people on either side of the gun debate anxiously await the result. The restrictions — which, among other things, would limit magazine capacity — are an infringement on Second Amendment rights, Moffat County Sheriff Tim Jantz said.
Recent photos