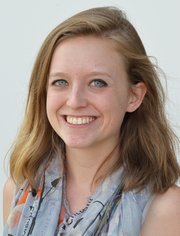 Erin Fenner is the government and cops reporter for the Craig Daily Press. Since then she has written for various publications as a freelancer; including Portland's Willamette Week. She graduated from the University of Idaho with a B.S. in Journalism in 2011. There she dabbled in multimedia internships and also hit the print news scene as an intern for the Moscow-Pullman Daily News. She likes lounging with music, editing soundbites and eating Dutch cheese.

Recent Stories
Loudy-Simpson Park pond has undergone a dramatic transformation during the past several months. "Last year that pond was only about a foot and a half deep," said Roy Tipton, director of Moffat County Development services. Now, though it's not full of water yet, it's between 10 and 12 feet deep. A perfect depth for healthy fish and clean water.
A total of 15 Coloradoans are vying for the executive office in the state. Gov. John Hickenlooper is up against several Republicans, one Democrat and a handful of Independents. That will change after the state assemblies, when the parties decide who they want to be their candidates. The assemblies on April 12 will gather delegates from across the state to vote for who they want to run for elected office.

The Bears Ears Tea Party Patriots hosted a forum Thursday night to hear from Moffat County Commissioner John Kinkaid about his recent visit to Washington, D.C., to attend a National Association of Counties steering committee on energy, environment and land-use issues. The event in Craig also provided a forum for candidates running for the District 3 county commissioner seat opening up in 2015.

Moffat County residents partook in one of their most celebrated constitutional rights Tuesday night at several different precinct caucuses. The precinct caucuses determine the delegates who will vote in the county and state assemblies for local and state candidates for the 2014 elections. The caucuses are broken into precinct and party designations. The Republican caucuses took place in 12 different precincts, and the Democrats met at one location at the American Legion Post. At the caucuses, delegates are nominated and voted on.

Family Literacy Night at East Elementary School welcomed parents and students to the school Monday night to participate in a number of activities to learn creative ways to approach reading. We're "just trying to expose kids and families to fun books to try," said Principal Sarah Hepworth.
Since Moffat County Assessor Robert Razzano is forgoing a second term, Chuck Cobb, broker assistant for Cornerstone Realty, is vying for the open seat. Cobb was the director of golf operations on the Yampa Valley Golf Course for about 30 years, and he said that gave him experience with business, county relations and community service. Also, his 10 year service on the school board gives him background in being an elected official, he said.
Tom Soos, emergency management coordinator for Moffat County, has entered the race for Moffat County Commissioner. He's vying for the District 3 seat that Moffat County Commissioner Tom Mathers will leave in 2015.
The Republicans and Democrats of Moffat County are getting into gear for election season. The precinct caucuses for both parties will take place Tuesday and be an opportunity for voters to select delegates for the state assembly and their choose local candidates.

Half of Craig's children, ages six to 14, will at some point during the year head to the same spot after school: the Boys and Girls Club. That means: nearly 900 children during 2013 used the after-school program.
Advocates Crisis Support Services is here to help victims in need. The agency that reaches out to victims of domestic violence and sexual assault started in a Craig basement in 1978. Since then, the nonprofit has expanded their space to offer a shelter for families who need a place to stay during a tough transition. The agency also added to their resources to reach as many people in the community as possible.
Recent photos