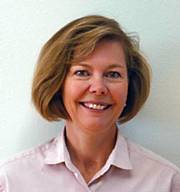 Deb Babcock, 51, has been writing the weekly gardening column for the newspaper as a volunteer master gardener since May 2000. Master gardeners are volunteers who have completed a course of study through the Colorado State University Cooperative Extension office and provide research-based advice and assistance to local home gardeners. Prior to moving to Steamboat Springs, Deb was a market researcher in Ann Arbor, Mich., and now spends her time gardening, hiking, skiing and creating pottery at her studio, Blue Sky Pottery, in the Pine Grove Center.
Recent Stories

Clearing and improving trails on public lands, packing out trash and educating people about how to care for the land - these are just a few examples of projects carried out by members of the Back Country Horsemen of America.

Colorado State University Extension offers information about hay production, insect infestation
Pasture and hay production and the oystershell scale insect - while unrelated, they're important issues for Moffat County residents, especially with spring just around the corner.