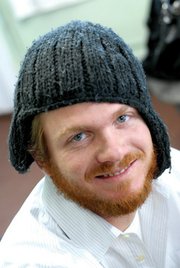 David Pressgrove grew up in Baldwin City, Kansas. He came to Craig in 2002 after graduating from Hillsdale College (Hillsdale, Michigan) with a B.A. in business marketing and a minor in journalism. He worked as the Craig Daily Press sports editor from 2002 to Aug. 2006. In August he became the full-time area director for Moffat County Young Life. He spends his free time running, watching movies with his wife, Jennifer, and hanging out with Young Lifers. In his spare time he assists the Craig Daily Press in reporting the news that matters to you.
Recent Stories
In Disney's movie "Wall-E," there is an interesting depiction of what the writers imagine humans will be like 700 years from now. They are extremely obese and rely on individual hovercrafts to provide all they need — food, mobility, entertainment, etc. At one point, there is an X-ray of one of the humans, and it shows his skeleton has nearly disappeared because of a lack of use. Sometimes I wonder if American Christians are going the way of the humans in that movie. But not all is lost. A survey I recently read might shake up what Christianity will look like in America down the road.
One of my favorite achievements of my youth was earning my Eagle Scout badge. I loved almost every minute of scouts, from my first Pinewood Derby as a Tiger Cub, to my Eagle Scout ceremony in high school. In addition, my grandparents started the troop in my town and my uncle and dad were leaders, so it was a family adventure. When I look back at it, scouts gave me a passion for the outdoors, which is a big part of why I moved to Colorado after college.
What's your story? If you have accepted Jesus Christ as your savior, odds are, at some point, you have had to give a testimony — give your life story — in front of somebody.
I still have fond memories of my high school baccalaureate.
"Looks like somebody has a case of the Mondays." – The annoying, nameless, secretary in the movie "Office Space." The above quote changed my path in life. "Office Space" is about three men who work for a computer software company and they hate their jobs so much they decide to rip off the company they work for.
This week I received a well-timed message on Facebook. It had been a long day of meetings and I wasn't overly excited about the challenges ahead of me the next day. The message was from a former Young Lifer and he thanked me for walking alongside him and how much he appreciated it now that he was at a different stage in life. I write this not to brag about how great I am, but because it sufficiently lead me into some thoughts on how October is pastor appreciation month. Webster defines a pastor as "a person authorized to conduct religious ownership." The definition fits our modern idea of the word, but biblically, "pastor" has more to do with compassion than authority.
In the movie "Liar, Liar" the main character finds success by lying. His lying is so bad that when his son is asked what his dad does for a living, he says, "My dad's a liar." (He's actually a lawyer – say both out loud to hear the play on words). A wish from his son requires the character to only tell the truth. Initially, his struggle to tell the truth is portrayed as nearly impossible. Obviously the movie is an exaggeration, but sometimes I think we convince ourselves it is easier to be dishonest.
In the fall, I went back to my college alma mater for the first time in eight years. When I returned I was surprised about how God spoke to me during that trip, and it's an important lesson I'd like share. The reason I returned to my school was my cross country and track coach, the coach there for 27 years, officially "retired" in the fall. But, unofficially and off-the-record, he was asked to step down. I was extremely upset and disappointed in how the situation was handled by the administration.
In the 2005 remake of "Charlie and the Chocolate Factory," the climax of the movie takes place when Willy Wonka offers his factory to Charlie on one condition: Charlie leave his family in order to live in the factory. Willy is taken aback when Charlie chooses his family over the factory. Willy had just offered Charlie a child's dream — to be in charge of a magical factory with the Oompa Loompas as friends for life.

It might take a couple of days, but Charlie Griffiths and Cody Nelson will be happy they took home medals from the Warrior Classic. On Saturday night, they weren't too excited because they wanted medals of a different color. Both Moffat County seniors went into the prestigious tournament with the goal to win. Instead, Nelson finished sixth and Griffiths finished fourth. Both wrestlers lost their medal round matches by one point in the final seconds.
Recent photos