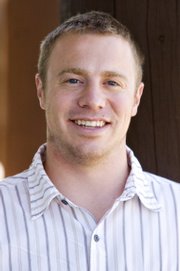 Dave Shively writes feature content for the Pilot & Today's special
sections, including At Home in Steamboat Springs Magazine, Explore
Steamboat, Yampa Valley Real Estate and Colorado Hunter. Dave has worked for
the Pilot & Today since April 2006 and covered sports and the outdoors for
the newspaper through February 2008. Dave has a bachelor of arts degree in
history from Colorado College. He has worked for Paddler Magazine and the Craig Daily Press. Dave is from Denver. He enjoys skiing, lacrosse and
kayaking.
Call Dave at 970-879-7762
Recent Stories

For four years, Tom Thurston has had the 2008 Seeley Lake 200 circled. This year, at this 200-mile race, was when Thurston was going to have his adult, 12-dog team primed to compete for a win.

The No. 1-ranked, defending state champion Akron Rams rolled over Hayden 55-6 on Saturday, ending a historic season for the Tigers. It was the first time Hayden reached the state semifinals in football.

Hayden football coach Shawn Baumgartner could spend some time reflecting on how far the Tigers have come since he first took the program's reins. But four years later, Baumgartner is only looking forward.
'Second season' hopes go through tough Sanford team
The Hayden High School football team has proved that it can win when it must win.
Steamboat gains advantage after MCHS penalties
Moffat County had plenty of momentum but was short on the breaks.
Barry Siff and his event management company, 5430 Sports, hosts seven triathlons a year, including some of the biggest in the state, which often draw more than 1,000 participants.

Matt and Chance Harms have no problem making the haul down U.S. Highway 40 from Hot Sulphur Springs to Hayden. The brothers load up their families and their pair of modified open-wheel racers into a custom 52-foot semitrailer rig for a taste of summer time speed. After the 95-mile drive, Matt Harms is eager to fulfill his racing fix by tearing up the fastest laps he can on the 1/4-mile dirt track at the Hayden Speedway, two miles south of town.
When Sam Weel�--dreyer made his first trip to the Class 4A State Track and Field Championships as a sophomore, he was surprised by all the unexpected bodies flying by.
Bulldogs hold Sailors for 60, but can't grab win
Frigid winds blasting across Moffat County leveled the playing field for what the girls on the Steamboat Springs soccer team thought would be a blowout in their favor.
With regional pride and district berths on the line, Steamboat defeats MCHS in four
After Moffat County snapped Steamboat's 16-year winning streak in Craig on Sept. 26, Sailors coach Wendy Hall wrote down Tuesday's date in her team's locker room as a reminder for her girls to fix in their minds.
Recent photos