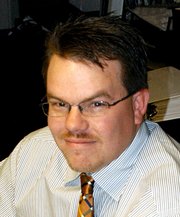 I am the father of two children, my oldest, Peyton, is 13 years old and youngest, Bayley, is 9 years old. We moved to Craig in January of 2006 to work as the publisher of the Craig Daily Press. My family and I enjoy going to the City Park to see the wood carvings and watching local sporting events such as Moffat County High School sports and adult softball. We also enjoy golfing at Yampa Valley Golf Course. My children are involved in a various activities, including the Boys and Girls Club and city recreation activities such as golf, baseball and basketball.
Recent Stories
This past Saturday in Meeker a student-athlete on the Craig Middle School 8th grade boys basketball B team, after losing a close game, kicked the game ball against the wall in frustration. This action upset the Meeker coach so much that he immediately got in the face of the CMS coach and began yelling at him until the referee separated the two. The CMS coach handled the situation appropriately by attempting to apologize for the mistake and even after the players shook hands attempted once again to apologize, which created about 10 more minutes of tense conversation while the A team prepared to play. I'm not saying the offending student-athlete's actions shouldn't be addressed. He made a mistake and needs to know that.
The most recent editorial opinion written by the Craig Daily Press regarding Commitment to Excellence contained some errors that I would like to explain and apologize for. This opinion piece stated that teachers are noticeably absent from community organizations committed to excellence in education in Moffat County. Fact is, there are indeed teachers, counselors, assistant principals, the athletic director, the assistant superintendent, the superintendent and board members involved in the three such community organizations.
They have said things such as, 'sometimes you have to do what's right,' 'if there is a conflict of interest – so be it,' 'there are citizens against virtually everything.' They also have said, 'we know the taxpayer said no in 2002, but this is different, we know we said we wouldn't do this in 2006, but we have been fiscally responsible.' I have also heard elected officials lament on many occasions in the past to the fact that taxpayers don't attend their meetings, and that the public doesn't seem to care what they are doing. Because of these comments, I was totally shocked that when taxpayers did show up in large numbers on Tuesday night, our elected officials didn't allow them to have a voice.
We've received plenty of feedback here at the Craig Daily Press regarding Wednesday's editorial about sports and coaching performances at Moffat County High School, so much that I felt it necessary to explain a bit more about the opinion conveyed. These opinion pages are designed to share and create dialogue, and with those goals in mind, we believe Wednesday's opinion was a success. The newspaper's opinion — note that Wednesday's editorial was the work of newspaper representatives, not the editorial board — attempts to convey feelings and views of our staffers and sentiments we've heard in the community. We believe Wednesday's opinion provided an accurate viewpoint of the feelings many in our community have regarding the current state of athletics at MCHS, as well as expectations overall on the court, field of play and in the classroom.

Welcome to the 2011 issue of Colorado Hunter, the premier guide to big-game hunting in this beautiful place we call Northwest Colorado. There's a reason the hunters among us call the region home. Come fall, it offers some of the best deer and elk hunting in the world, whether you're pulling back a bow or sighting in a scope.
The Craig Police Department has recently been focusing on parking issues along First Street. The issues stem from those of us who have children playing in Craig Parks and Recreation T-ball, coach pitch and fast pitch parking illegally along the shoulder of the street near Woodbury Sports Complex. Each night games were played last week, police officers made their presence known on the scene with multiple cars and lights flashing.
Are you looking to clean up the view from your driver's seat? Nu View Auto Glass is ready to assist you in the task. Having served the Craig area now for about 10 years via a mobile service, the business has now opened a store location at 1115 Yampa Ave. in Craig.
I would like to wish you all a very Merry Christmas this year. The staff and I at the Craig Daily Press and The Print Shop are appreciative of the products and services you allowed us to provide you in 2010, and look forward to working hard on your behalf in 2011.
Local residents launch Hayden steakhouse
Moffat County residents Pat and Ann Marie Roberts, owners of R & R catering, have opened a restaurant in Hayden. The Double Barrel Steakhouse, located at 825 W. Jefferson, is a great place to eat. The menu is filled with great entrees such as hamburgers, chicken fried steak, steak and much more. The food is fantastic. The restaurant is open from 11 a.m. to 9 p.m. Tuesdays through Saturdays, and 11 a.m. to close Sundays. You can visit the restaurant at the Hayden location, or call 276-2020 for more information or to book your holiday party.
A Moment's Focus is offering family photo mini sessions this holiday season. They include a 30-minute sitting session, online gallery and 25 pre-designed holiday cards for a total of $50. These sessions are available from now until Dec. 5.
Recent photos