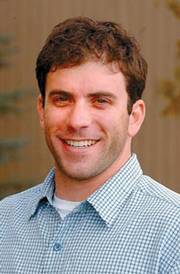 Brent Boyer has been the editor of the Steamboat Pilot & Today since August 2007. He moved to Steamboat Springs in December 2002 to be the paper's first full-time education reporter. He was named city editor in August 2005.
Brent has a bachelor's degree in journalism from the University of Colorado at Boulder, where he covered the Colorado Buffaloes football team for the Colorado Daily, high school sports for the Boulder Daily Camera and general assignment news for the Denver Post.
Brent was born in Southern California but raised in Northern Virginia. He spends time away from the office enjoying outdoor activities like snowboarding, hiking, mountain biking and golfing. He married Megan Wortman in August 2008 in Steamboat Springs.
Recent Stories
Spring will make an emphatic appearance in Moffat County today, but typical of Northwest Colorado, winter isn't quite ready to call it quits.
This year's municipal election features two candidates vying to be mayor and six candidates competing for either three or four council seats, depending on the outcome in the mayor's race.
Moffat County Clerk and Recorder's Office officials said that as of Thursday afternoon they had received only 750 completed mail ballots from Craig voters. While that number was expected to increase as additional ballots were collected Friday, officials acknowledged they would like to see better turnout.
I like change. I think it's good, and healthy.
Private landowners gave the property to the U.S. Forest Service at the end of 2012. Forest Service officials say they'll now be able to more effectively manage wildlife species such as native cutthrout trout that live in some of the streams in California Park.
Several key indicators point to a continued, but slow, economic recovery for Moffat County, with both gross retail sales and unemployment numbers expected to improve during the second quarter. Scott Ford, a local economic analyst and an advisor for Yampa Valley Data Partners, said the group's second quarter economic forecast gives reason for optimism in Northwest Colorado. "We're just barely moving on some stuff, but it's there," Ford said, referring to economic indicators like consumer confidence, consumer spending and unemployment. Ford said one of the region's most reliable data tools is the economic stress indicator, which analyzes the total local workforce and the number of jobs from year to year.
White, a Hayden Republican, was appointed a year ago to fill the vacancy left by her husband's departure. Baumgardner, the House District 57 Republican representative, was left with few other options after redistricting.

A passer-by first reported the fire shortly after 8 a.m. Wednesday. The train was allowed to continue through town until firefighters could safely extinguish the blaze at about 8:30 a.m.
Mine officials are working to fix a blown transformer that caught fire Tuesday night and cut electricity to the mine. The mine is one of the most productive coal operations in the country, having produced 1.7 million tons of coal in the first quarter of 2011.
Jamison Fjoser, 36, was taken into custody March 10 by the U.S. Marshals Office. The dozen local charges against Fjoser include at least seven felonies related to the manufacture and distribution of methamphetamine.