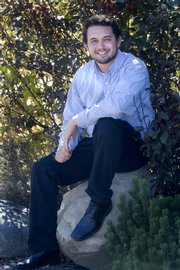 Brandon Gee covers government and politics for the Pilot & Today. He started working for the newspaper in June 2007, after his graduation from DePauw University in Greencastle, Ind. He has a Bachelor of Arts degree in English writing with a minor in political science. Brandon did summer internships at the Evansville (Ind.) Courier & Press, The Oregonian in Portland, Ore., and The Wall Street Journal. He spent a semester abroad in London, where he interned with Moneywise magazine.
Brandon is from Evansville, Ind. and is a huge fan of the Indianapolis Colts and Indiana University basketball. When not at work, he can be found on Mount Werner enjoying his first season on the slopes.
Recent Stories
City Market executive warns of lockout in event of Safeway strike
A union official said Friday that a potential strike of Safeway workers, and a related possible lockout of City Market employees, would affect the companies' stores in Steamboat Springs and Craig.

Commissioners to consider pre-application Tuesday evening
Opponents of a proposed gravel pit south of Steamboat Springs have caught wind of the project they thought was dead in the water four years ago. The Routt County Board of Commissioners will review a pre-application for the Steamboat Sand and Gravel Mine and a subsequent land preservation subdivision Tuesday.

Taxidermy costs remain unresolved in Nightwalker case
Kent Nightwalker will not serve jail time for shooting a bear in downtown Steamboat Springs - and he wants to keep the bear's remains if the Colorado Division of Wildlife insists on sticking him with a taxidermy bill.

Proposal would allow up to 5 hens in single-family zones
An ordinance in the early stages of review would allow as many as five chicken hens to be kept at homes within city limits in single-family zone districts. The ordinance has not been reviewed by the Steamboat Springs Planning Commission or City Council but probably will be this fall.

Meeting tonight will start at 5 p.m.; council also will meet with West Acres residents
Steamboat Springs City Council will take its first look today at an ordinance regulating medical marijuana dispensaries. The meeting starts at 5 p.m. in Centennial Hall, 124 10 St.
Congressman accused of ducking debate speaks out
U.S. Rep. John Salazar, a Blue Dog Democrat accused of hiding from the health care debate, outlined and defended his stances on the issue Thursday. He spoke with the Pilot & Today before speaking at the Colorado Water Congress' annual summer conference at the Sheraton Steamboat Resort.

City considers regulations for budding industry
Colorado's regulations governing medical marijuana dispensaries are vague or nonexistent. On Tuesday, the Steamboat Springs City Council rejected a proposed emergency moratorium on such businesses to allow city officials enough time to craft an ordinance governing them.
Longtime local was a gun enthusiast, repair shop owner
Lorna Lou Farrow, a local shooting enthusiast and co-owner of Farrow Repair Service in western Steamboat Springs, died Tuesday after she was struck by a dump truck while checking her mailbox on U.S. Highway 40.

Operator shoots for September opening
A local couple has signed a lease to reopen the Space Station gas station and convenience store in downtown Steamboat Springs. The station at Seventh Street and Lincoln Avenue has sat vacant for more than two years, and its owner was nearly cited for nuisance issues by the city.

Sex-slavery survivors visit Steamboat during cultural immersion
Watching them laugh and smile as they prepare for a bike ride along the Elk River, it's hard to imagine the horrors these women have endured.
Recent photos