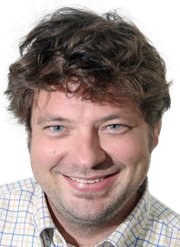 Recent Stories
For a few minutes on Sept. 11, 2001, I hid. When the second plane struck the World Trade Center, I walked to the nearest bathroom in the Time-Life Building in midtown Manhattan and sat in a toilet stall. In a nearby office, my co-workers continued watching the news unfold on television, but I simply hid. I sat in a trembling heap and silently wondered how many other planes would fall. Twenty? Thirty? More?

Father-daughter hunting team gear-up for a special season
Eight-year-old Tiana Nichols had an early introduction to hunting. Very early. "Four days after she was born, I took her up to where my tree stand was," father Gary Nichols says. "That kind of gives you an idea." Gary, 56, is a deputy sheriff with the Moffat County Sheriff's Office. He hunts exclusively with a recurve bow and has been hunting in the area since 1989. He's involved his daughter in hunts as much as possible since her birth in September 2002.

NW Colo. home to numerous talented taxidermists
You're in good hands if you're looking to preserve your animal in Craig. The town's taxidermists are in a league of their own, head and shoulders above those found elsewhere in the field. Want proof? In early June, two local taxidermists accomplished something that would have been unthinkable 20 years ago. Scott Moore and Leland Reinier submitted a collaborative piece to a taxidermy competition and won.

Craig resident's trophy bear kill erupts into statewide controversy
It was a shot that reverberated around the state and beyond. In November 2010, Craig resident Richard Kendall crawled to the mouth of a dark cave with a .45-70 caliber lever-action rifle. Inside lurked a 703-pound male black bear. Adrenaline pumping, Kendall glimpsed into the cave with a flashlight and briefly made eye contact with the animal.
A line of men and women stood quietly Saturday afternoon under a light rain, each waiting patiently for a chance to sign the guestbook and enter Hayden Congregational Church. Once inside, an usher directed visitors past a collection of family photographs, rows of crowded pews, and into a back room set up to handle crowd overflow. A big screen television would display live video of the upcoming service, and seats had been arranged in long rows.

Fred Ellis stood Sunday morning before a small crowd at the Moffat County Fairgrounds and preached what he believes to be the Word of God. During an hour-long ceremony, Ellis touched on subjects ranging from Genesis, Revelations and horses. The last topic is understandable. Ellis is, after all, a cowboy.

Brent Curtice, assistant superintendent for Moffat County School District, said the results of the 2011 Colorado Student Assessment Program are mixed. "We had some really bright spots, and we had some spots that weren't so bright," he said. "We want to take an in-depth look at our achievement and make sure we're doing the best we can for kids."

Dave Pike, Craig Parks and Recreation director, strolled Thursday along a dusty, cactus-bordered trail. The Sandrocks loomed above his head. "This is city property along here," Pike said. "This is what's called Panorama Park."

Gene Bilodeau is hoping for a strong public turnout for Colorado Northwestern Community College's upcoming open house. "The more, the merrier," the vice president of administration said. "It's the community's college. And, the more of the community that can come and appreciate it, the better." CNCC officials will cut a ribbon to signal the opening of the college's new facilities at noon Monday at 2801 W. Ninth St. The event will include guided tours of the facility and light refreshments.
One person was killed and another seriously injured in a head-on collision Friday night that closed both lanes of U.S. Highway 40 east of Craig. Trooper Nate Reid from the Colorado State Patrol public affairs office said a black 2006 Mercedes Benz driven by Hayden resident Joshua Ward, 20, attempted to pass in a no-passing zone near mile marker 95 on U.S. Highway 40.
Recent photos