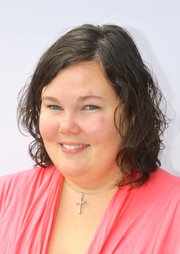 Anna Griffing was born and raised in Vicksburg, Mississippi. She graduated
from the University of Southern Mississippi with a Bachelor of Fine Arts in
graphic design. Her hobbies include reading comic books, collecting quarter
machine toys, and failing to learn to play the ukulele. Anna also enjoys
outdoor sports, and is looking forward to all the outdoor activities that
Colorado has to offer.