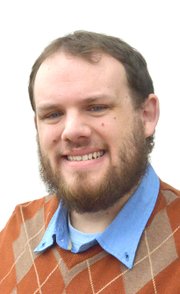 Education/health reporter Andy Bockelman was born and raised in Craig and graduated from Moffat County High School in 2004. He received his bachelor's degrees in theater studies and journalism from the University of Northern Colorado in 2009. He has written and edited for several web sites, newspapers and magazines, including UNC's student publication The Mirror, The Greeley Tribune and Explore Steamboat, the entertainment guide for Steamboat Springs Pilot & Today. He is an avid film buff, as well as a member of the Denver Film Critics Society, and he details his love of movies in his column The Bock's Office.

Recent Stories

The board of trustees for The Memorial Hospital took action at its regular monthly meeting Thursday night.

Every idea that challenged preconceived notions sounds unusual at first, but in a field that's constantly altering, keeping an open mind to fresh thoughts is key. The nursing students of Colorado Northwestern Community College got the opportunity to show their medical aptitude earlier this week when they presented their findings on new or less well-known techniques to health professionals at The Memorial Hospital and Yampa Valley Medical Center in a format not unlike a science fair.
New state bill allows community colleges to expand
Recent legislation could have considerable benefits for certain educational institutions across Colorado, including those within Moffat and Rio Blanco Counties. On Feb. 27, Colorado Gov. John Hickenlooper signed into law Senate Bill 14-004, which authorizes community colleges in the state to offer bachelor of applied science degrees. This would allow schools to feature four-year career technical programs in many fields.

A trying experience like air travel is not meant for the impatient. The people who can't help but tear into a bag of peanuts seconds after finding their seats are exactly the crowd the makers of "Non-Stop" had in mind as their audience, but it may be the folks with the greater attention span who will enjoy it more.

The Moffat County School District hosted a meeting Monday night at its administration building to address, among other things, the use of Common Core Standards in the region's schools. Zack Allen, integration liaison for MCSD and South Routt School District, and parent Kindra Jazwick collaborated to put together the discussion.
The 68th annual Craig Kiwanis Club play took place this weekend, and if you weren't there, you'll have to wait until next year to find out what the hype was all about. The two-night performance is something that, as loyal fans know, is kept within the confines of the Moffat County Fairgrounds Pavilion.

Cholesterol levels are far from just a grown-up matter, and Northwest Colorado medical professionals hope to emphasize that parents should keep their child's readings in mind.

Literacy coordinator given $1,000 check in Friday ceremony
Tiffany Trevenen received the Peabody Energy Leaders in Education Award for her work as the literacy coordinator for East, as well as her years of service to Moffat County School District.
The Moffat County School District Board of Education took action at its regular monthly meeting Thursday night.

FBLA to attend competition in Vail in April
The DECA team of MCHS attended the state tournament from Feb. 22 to 25 in Colorado Springs, competing in numerous events.
Recent photos