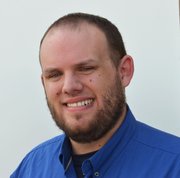 Education/health reporter Andy Bockelman was born and raised in Craig and graduated from Moffat County High School in 2004. He received his bachelor's degrees in theater studies and journalism from the University of Northern Colorado in 2009. He has written and edited for several web sites, newspapers and magazines, including UNC's student publication The Mirror, The Greeley Tribune and Explore Steamboat, the entertainment guide for Steamboat Springs Pilot & Today. He is an avid film buff, as well as a member of the Denver Film Critics Society, and he details his love of movies in his column The Bock's Office.

Recent Stories

Keeping tabs on the state of your heart may involve a lot of work, but the effort is well worth it.

You could look at a movie like "Out of the Furnace" and say things only go from bad to worse to rock bottom. Then, once the floor caves in, there's a new standard for substandard conditions, but that just makes the climb back up all the more important.

As part of Moffa County High School's Law Week, pupils in Liane Davis-Kling's government classes were able to pick the brains of the professionals who work within various capacities of the legal system.
Dialysis center project still in progress
At its Thursday meeting, the board of trustees for The Memorial Hospital finalized, by unanimous vote of 5-0, a contract with Moffat County School District that will allow the hospital to provide medical support for the athletics programs at Moffat County High School and Craig Middle School.

Event to honor noteworthy figures
Cowboy Christmas, the annual fundraiser for the Boys & Girls Club of Craig, takes place Saturday evening with dinner and dancing, with live music provided by Four 2 Play. Following that are a silent auction, a live auction and a Texas Hold 'Em poker tournament. All proceeds will go toward the local branch of the Boys & Girls Club.

Those looking for unique, handmade specialty items for people on their Christmas lists can find those gifts this weekend at the fourth annual Yampa Valley Artisans Holiday Market. Hosted Friday afternoon and all day Saturday at Center of Craig, the event promises plentiful products sewn, woven, carved or otherwise prepared by artists of Northwest Colorado.

As the unit director for the Boys & Girls Club of Craig, Maneotis strives to make all the kids in the region who pass through her halls feel special and part of "a safe, nurturing environment."

The members of the Moffat County High School speech and debate team have begun their season with a promising outset. A first-place overall finish at their most recent meet at Grand Junction High School showed what the group is capable of, as they competed in a variety of events testing their proficiency for communicating.

In the world of young-adult literature, some books only get less dynamic as they go. Although some series disappoint even when expectations are at their lowest, at least there's one series that keeps "Catching Fire" after an auspicious introduction.

As the holiday shopping season approaches, businesses within Craig and Moffat County are not unlike the rest of the country anticipating a surge in demand for consumer goods. Hopefully, the majority of residents will keep in mind the importance of buying locally, but in some areas, the message already has been received.
Recent photos