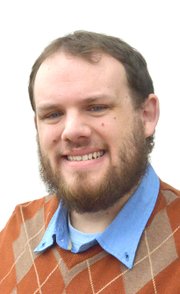 Sports/Entertainment reporter Andy Bockelman was born and raised in Craig and graduated from Moffat County High School in 2004. He received his bachelor's degrees in theater studies and journalism from the University of Northern Colorado in 2009. He has written and edited for several web sites, newspapers and magazines, including UNC's student publication The Mirror, The Greeley Tribune and Explore Steamboat, the entertainment guide for Steamboat Springs Pilot & Today. He is an avid film buff, as well as a member of the Denver Film Critics Society, and he details his love of movies in his column The Bock's Office.

Recent Stories
The pomp and circumstance sweeping the nation hit Northwest Colorado Saturday morning as Moffat County High School sent its Class of 2015 graduates out into the world after four memorable years.

Time has flown by for the seniors of Moffat County High School, and if you don't believe it, just look at the class artwork.

Alex Samuelson, Matt Hamilton honored as top senior athletes
The Lewis "Dude" Dent Memorial Award Selection Dinner honored many of Moffat County High School's sports superstars Thursday night, capping off a year that has seen a great deal of athletic achievement.

179 Craig elementary students party hearty at program's reward barbecue
Some say the journey is more important than the destination, but for the young bookworms of Passport to Reading, the two went hand in hand this year. In its third year, Passport had the best overall results yet, with fourth- and fifth-grade readers collecting a record 6,066 books read throughout the school year to surpass the goal of 6,000. 179 kids from East, Ridgeview, Sandrock and Sunset elementary schools were able to attend the barbecue Wednesday that served as reward for all who had achieved a minimum of 20 books read from cover to cover from the fall to the spring.

Local businesses, community provide 65.4 tons of metal for recycling
After several weeks of collection, thousands of pounds of scrap metal have been gathered from around Moffat County, and local schools have a little bit more in their coffers as a result. The second annual Axis Steel Fabrication & Recycling PAC Fundraiser amounted to $5,904.22 for Craig's educational institutions, including Moffat County High School, Craig Middle School, GOAL Academy and East, Ridgeview, Sandrock and Sunset elementary schools.

Dinner to honor scholar athletes of all grade levels
To excel on the football field, basketball court or any other sporting venue takes talent. To do that and also succeed in the classroom is especially worthy of acknowledgment. Moffat County High School will pay tribute to its best and brightest athletes during the annual Lewis "Dude" Dent Memorial Award Selection Dinner Thursday evening at the Clarion Inn & Suites, a night that will honor those who have played multiple sports throughout high school while still paying attention to their schoolwork.

Kayla Pinnt breaks own records, repeats as 100, 200 victor; girls place 4th, boys 31st
The Moffat County High School girls track team had a field day during the final stretch of the 3A State Championships at Jefferson County Stadium.

4x200 group 1st at state, Matt Hamilton wins 3rd in triple jump
The MCHS foursome of Emma Samuelson, Lauren Samuelson, Kayla Pinnt and Ary Shaffer claimed a state title in the 4x200-meter relay Friday at Jefferson County Stadium with a time of one minute, 45.03 seconds.

Relay team posts best time
The Moffat County High School boys swim team made a splash at the 4A State Championships Friday in Thornton, though not quite as big as they needed it to be. The Bulldogs finished the season with some of their best times to date in three events: the 50-yard freestyle, 100 free and 200 free relay at the Veterans Memorial Aquatics Center.

It wasn't looking like the Moffat County weather would allow it in the early hours Saturday, but eventually Mother Nature smiled on the fortunes of an activity that means a lot to some special people. The Western Area Colorado Spring Special Olympic Games took place this weekend at Moffat County High School, as about 100 athletes from the Western Slope competed in track and field, aquatics and weightlifting.
Recent photos