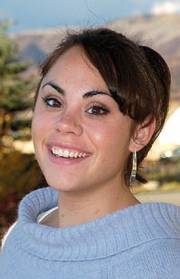 Alexis M. DeLaCruz covers cops/courts, South Routt and obituaries for the Pilot & Today. She has worked for the newspaper since May 2005.
Alexis has a bachelor of science degree in journalism and a bachelor of arts in Spanish language and literature from the University of Colorado. She worked as an intern at the St. Cloud Times in St. Cloud, Minn., and at the Colorado Daily in Boulder.
Alexis is from Northglenn. She is an avid reader and will read pretty much anything she can get her hands on. She hates television but loves Netflix. She mountain bikes, lake kayaks and is eagerly awaiting her second Steamboat winter so she can perfect her snowboarding technique. She likes to drive and travel around the world. She also likes to randomly organize things that probably don't need it. Obviously, she likes to talk and socialize. She likes to make vegetable soup and Mexican food using her grandmother's recipes.

Recent Stories
Kochenower still in hospital after Sept. 21 motorcycle accident
A benefit for former Hayden resident Tyrrell "Tye" Kochenower is today in Northglenn.
Being the youngest of four children has its advantages - like knowing your parents love you the most and that you're the best looking one of your siblings.
Craig man arrested on suspicion of two incidents involving 9-year-old girl
A 33-year-old Craig man was arrested Oct. 5 on suspicion of forcing a 9-year-old girl to touch him inappropriately at a Thanksgiving gathering last year.
Longtime employee remembered as smart, caring, irreplaceable
A 51-year-old Steamboat Springs man died Tuesday afternoon at the Twin Landfill in Milner after a bulldozer attachment fell on top of him.
For Soroco physical education teacher David Bruner, taking a group of teenagers fishing is about more than just making a great catch and getting out of school.
Judicial District gets OK to hire new investigator
An increase in felony cases across the 14th Judicial District is overloading the District Attorney's Office and could result in the hire of a new investigator.
Wiggins: Donations allowed ACET to cut spending
The All Crimes Enforcement Team has reduced its supplies and operations budget by 34 percent while making several drug-related arrests with limited staff.

Head-on collision closes highway Thursday afternoon
Two men died in an accident on U.S. Highway 40 west of Hayden on Thursday afternoon.
Haskins, Zabel face felonies as a result of August incident
Two 19-year-old former Hayden residents have been charged with possessing an explosive device and reckless endangerment for allegedly setting off homemade acid bombs in Hayden in August.
PolicÃa: Cisneros dijo que matarÃa a bebe, a sà misma
Steamboat Springs - Segðn declaraciones juramentadas sometidas por la policÃa que fueron publicadas el jueves, la madre de Brianna Simón habÃa amenazado con suicidarse y con asesinar a su hija de 1 año de edad en las semanas previas al incidente del 6 de septiembre.