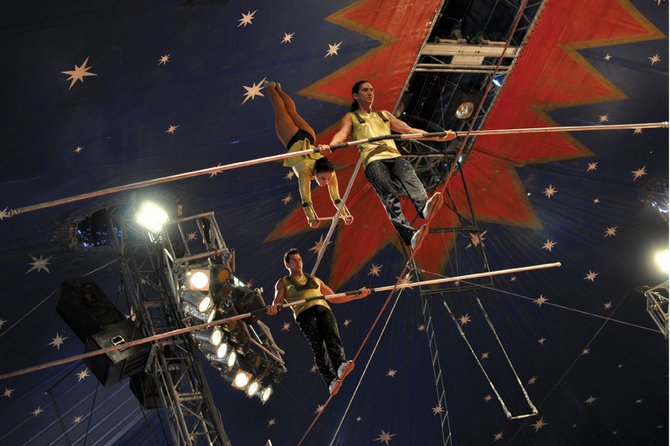 Carson and Barnes Circus performers walk the tightrope Tuesday afternoon during the first of two performances at the Moffat County Fairgrounds. The self-proclaimed "world's biggest big-top show" also offered elephant rides and a petting zoo.
Stories this photo appears in:

Carson and Barnes Circus' arrival Tuesday evokes childhood memories
The air inside the tent was sultry Tuesday afternoon with the mingled aromas of cotton candy and popcorn. The crowd watched, entranced, as two acrobats nimbly walked the tightrope while a third performer slowly lifted herself into a handstand on a bar between them. The Carson and Barnes Circus was in full swing at the Moffat County Fairgrounds. Among the 100 or so people who came to the big top was Jeff Schlim of Craig, with wife Stacy and their daughters, Ema, 7, and Taryn, 4, in tow.