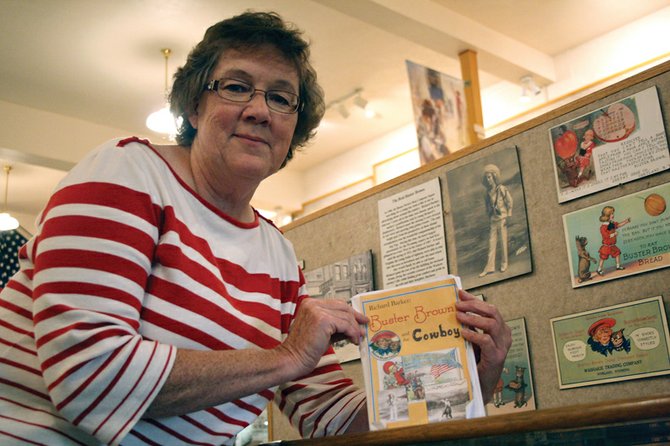 Jan Gerber, assistant director of the Museum of Northwest Colorado, holds up a copy Tuesday of the book "Richard Barker: Buster Brown and the Cowboy," which depicts the life of Barker as the promotional persona for the Brown Shoe Company and his life as a cowboy in the Little Snake River Valley of Wyoming. Gerber hopes to publish 2,000 copies of the book by Christmas and sell them nationally.
Stories this photo appears in:
Richard "Dick" Barker dreamt of being a cowboy. However, the East Coast-born Barker was caught in a trap, of sorts — while envisioning life the cowboy way, he was the centerpiece of a national marketing campaign for the Brown Shoe Company from 1907 to 1913. From age 7 to 14, Barker was the real-life persona known as Buster Brown, a well-known symbol of the 20th century. The role entailed capitalizing on Barker's recognizable golden curls, dressing in feminine-like clothing, polished black shoes and being joined by his trusty sidekick, dog Tige.