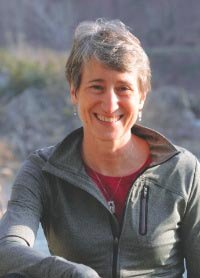 Sally Jewell, United States Secretary of the Interior
Stories this photo appears in:
The U.S. Department of Interior said there was a breakdown in communication during U.S. Interior Secretary Sally Jewell's visit to Moffat County.
January 29, 2014 10:30 a.m.
What was intended to be a positive and constructive dialogue about the future of a small, sensitive bird in Northwest Colorado has morphed into a broader discussion about the freedom of the press in Colorado.

The Craig Daily Press is investigating a possible violation of the Colorado Sunshine Law following a meeting about sage grouse conservation. Daily Press government reporter Erin Fenner was banned from the meeting, which took place at American Legion Post 62 following Tuesday's tour of Moffat County land by Colorado Gov. John Hickenlooper and U.S. Secretary of the Interior Sally Jewell.
January 22, 2014 3:15 p.m.