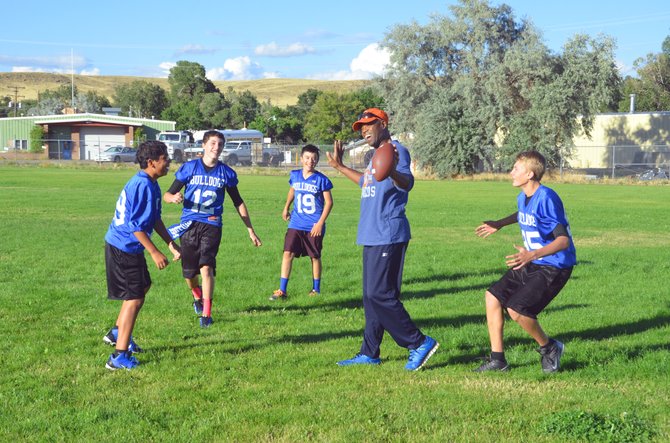 Rick Upchurch, center, jokingly surrenders while in possession of the ball as Craig Middle School football players Kevin Hernandez, left, Conner Murphy, Josh Pando and Caleb Cuevas surround him on the defensive. Upchurch, who played for the Denver Broncos in the 1970s and 1980s, spoke to middle school players Wednesday afternoon.
Stories this photo appears in:

Rick Upchurch talks dedication with young athletes
Only a small percentage of athletes ever reach the top levels of competition in their sport, meaning to meet someone who's been part of the tradition of the World Series or the Stanley Cup is a rarity. Apparently, the players of the Craig Middle School football teams are just that lucky. The seventh and eighth grade teams received a surprise visit in their first week of practices from Denver Broncos great Rick Upchurch on Wednesday afternoon.
August 21, 2014 9:18 a.m.