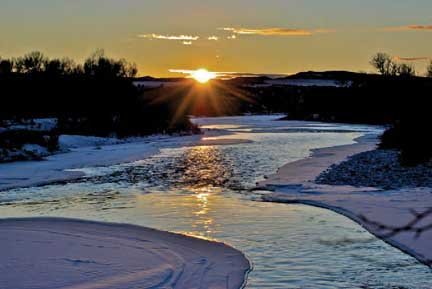 "Yampa Solstice Sunset," by Peter Bergmann, was featured in last year's Waving Hand Review, an annual literary magazine produced by Colorado Northwestern Community College that showcases works by local residents or about Northwestern Colorado. CNCC currently is accepting submission's for this year's edition.
Stories this photo appears in:

Walking his dog in a snowstorm, David Morris saw five bucks jump a fence right in front of him. Morris said the sight of the incredibly black bucks against the white inspired a potential poem. "Whenever I go anywhere, especially out in nature, I'm always hunting poems," Morris said. "You never know what you're going to come across that you can do something with. If a real powerful image hits me I'll write about it." Morris is a regular contributor to Colorado Northwestern Community College's literary magazine, "Waving Hands Review" and has also self-published three books of poetry. CNCC's "Waving Hands Review" is now accepting submissions of original works of poetry, fiction, non-fiction, personal and political essays, humorous essays, serious journalism, photography, photos of 2-D and 3-D artwork, digital artwork, drawings and fragments through March 1.
January 31, 2013 11:35 a.m.