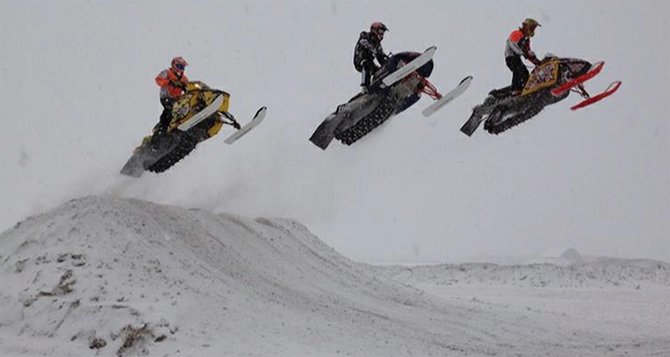 From left: A.J. Stoffle, Dylon Moss and Austin Gabbert go over a ramp at the track in Grand Lake, where they raced Jan. 5 and Jan. 12. The Snocross riders will be racing in Craig Feb. 16 at Wyman's Museum.
Stories this photo appears in:

After racing in Duluth, Minn., local Snocross riders came back to Craig disappointed in their performance. Unfortunately, there wasn't much they could do about it. At the time, there was no snow on the ground in Craig, which meant no opportunity to get back on their sleds and practice. But since the snow came down in force, Wesley Chapman, Austin Gabbert and A.J. Stoffle have been making the most of it. The teenage Snocross competitors have gone snowmobiling at Black Mountain several times and Chapman even built a snow ramp in his back yard.
January 19, 2013 12:17 a.m.