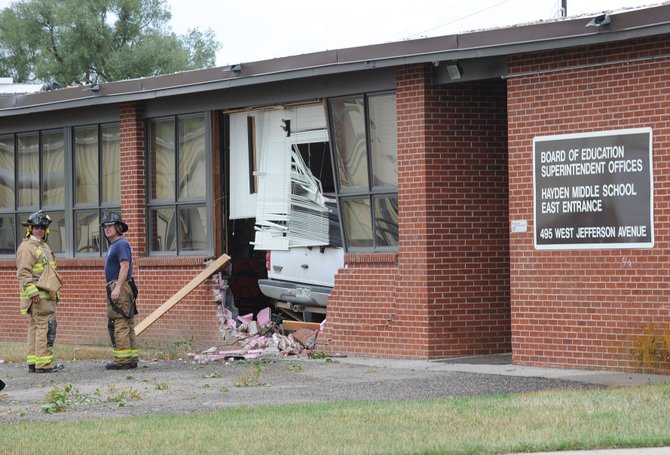 West Routt Fire Protection District firefighters Nick, left, and Wayne Deluca check out the scene where a Ford Expedition crashed into Hayden Middle School on Tuesday afternoon. Investigators are asking anyone who witnessed the incidents to contact Sgt. Scott Elliott with the Colorado State Patrol at 970-879-0059 or police officer Jarrod Poley with the Hayden Police Department at 970-276-3232.
Stories this photo appears in:

Dented pickups, bent street signs and vehicle parts lined Jefferson Avenue in downtown Hayden on Tuesday night as a large crowd gathered near the parking lot of Hayden Middle School where a Ford Expedition crashed into one of the school's classrooms.
August 7, 2013 10:03 a.m.
The driver of the SUV left a path of destruction after hitting four pickups and slamming through the brick wall of a classroom. No one was seriously injured, and investigators are looking for witnesses.