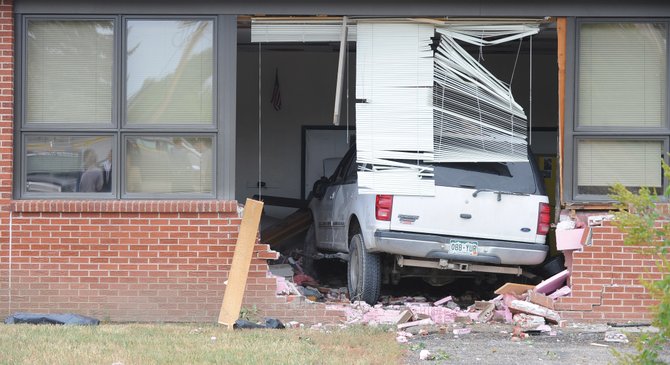 A Ford Expedition sits inside a classroom at Hayden Middle School on Tuesday afternoon after it hit several cars and then crashed through the brick wall. Investigators are asking anyone who witnessed the incidents to contact Sgt. Scott Elliott with the Colorado State Patrol at 970-879-0059 or police officer Jarrod Poley with the Hayden Police Department at 970-276-3232.
Stories this photo appears in:

Dented pickups, bent street signs and vehicle parts lined Jefferson Avenue in downtown Hayden on Tuesday night as a large crowd gathered near the parking lot of Hayden Middle School where a Ford Expedition crashed into one of the school's classrooms.
August 7, 2013 10:03 a.m.
The driver of the SUV left a path of destruction after hitting four pickups and slamming through the brick wall of a classroom. No one was seriously injured, and investigators are looking for witnesses.