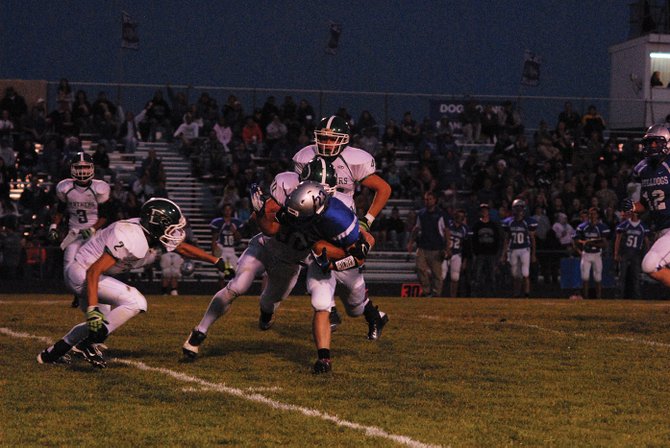 Moffat County senior Garret Stewart (23) is tackled by a host of Delta Players during the team's game last Friday at the Bulldog Proving Grounds. The Bulldogs take on Eagle Valley High School at 7 p.m. today in Gypsum.
Stories this photo appears in:

Moffat County prepping for another key league tussle
If there is a time in every season to put up or shut up, this is it for Moffat County football. The Bulldogs, coming off a disappointing home loss to Delta, in which they did not play their best football, travel to Eagle Valley today to take on a 3-1 Devils squad in another key Western Slope League clash. For Moffat County (2-2, 1-2 WSL), the game represents a chance to get back on track and keep their preseason playoff aspirations intact. Last season Frederick High School was the final seed in the Colorado 3A State Playoffs, finishing the regular season with a 7-3 record. That means a loss to Eagle Valley would be crippling to Moffat County's chances this year. The Devils and Bulldogs run contrasting styles, but have produced similar results so far. Both teams have played Steamboat Springs and Delta in the first four games of the season, with comparable final scores.
September 27, 2012 10:11 p.m.