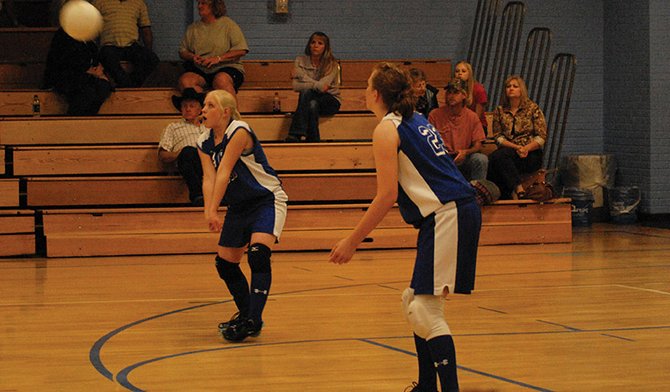 Sari Morgan prepares to bump the ball Thursday during the Craig Middle School B volleyball team's match against Meeker. The B team of seventh-graders beat Meeker in three sets, 25-18, 18-25, 15-9.
Stories this photo appears in:

The Craig Middle School volleyball teams split a pair of tightly contested matches Thursday at CMS. The eighth grade A and B volleyball teams played matches against Meeker Thursday afternoon, and while the A team lost in two close sets, the B team dug deep to win in three. In the first match of the afternoon, the B team split the first two sets with Meeker 25-18, 18-25. In the third set, the Bulldogs took an early lead with good serving from Shaeli Hatten and they never looked back. The result was a 15-9 result in the decisive third set. Coach Sarah Wiseman was happy with the way her group played as a unit.
September 27, 2012 10:35 a.m.