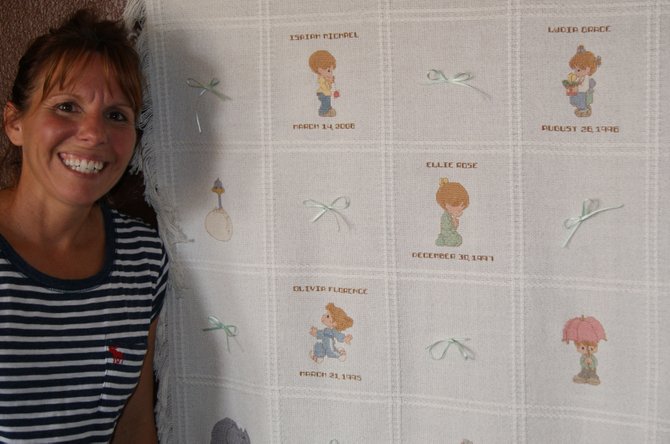 Angeli Skalberg stands next to the afghan she received as a gift at the birth of her first daughter. The Skalbergs originally wanted five children but were content at three, then four. The names of all four children and their birth date are next to the needlework precious moment children on the afghan. The fifth one never had a name until now, as the Skalbergs are in the process of adopting a seven-month-old girl from Ethiopia named Sofie.
Stories this photo appears in:

Baggs couple learns to listen to their hearts
The afghan hanging on Angeli and Todd Skalberg's wall has five children needle worked on it. A gift at the birth of their first daughter, next to four of the five children is a name and birth date. "We had my friend who made it for me, needlework the three girls names on there, then Isaiah was born, and all of a sudden we have this little person in the corner that didn't have a name," Angeli said. And it appeared it would stay that way. The Skalbergs decided they weren't having any more children. "It kind of bugged me you know, but not a reason to have another one," Angeli laughed. But after six years, the nameless little person on the afghan will soon be Sofie, a seven-month-old girl the Skalbergs are adopting from Ethiopia.
September 25, 2012 5:37 p.m.