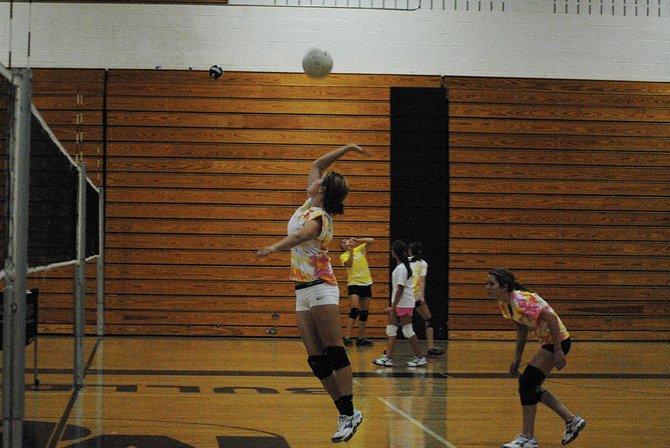 Allie Ehlers (front left) hits the ball during a team drill Monday in the MCHS gym. The Moffat County varsity volleyball team lost its game at Grand Valley High School Saturday in four sets.
Stories this photo appears in:

The girls volleyball team at Moffat County is still struggling with some of the issues that have plagued it all year. The team played at Grand Valley High School Saturday and lost in another close match—one that head coach Sandy Camilletti was expecting. Camilletti had said before the game they were evenly matched teams, and the score reflected that as the Bulldogs went down in four sets, 25-27, 26-24, 20-25, 21-25. Once again, Moffat County struggled to end their opponents' serve at times. "We give up too many long runs of points," Camilletti said. "Five (points) in a row, six in a row to the other team. We get stuck in a rotation and can't get out of it. It kills us."
September 25, 2012 1:46 a.m.