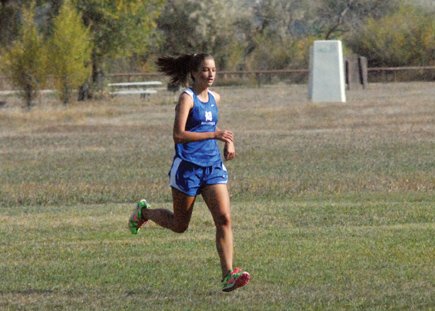 Brenna Ciesco, a junior at Moffat County High School, pushes for the finish line at Moffat County's home cross-country meet Saturday morning at Loudy-Simpson Park. Ciesco won the girls race, finishing in 20:42.
Stories this photo appears in:

Home sporting events always are exciting. For sports like cross-country, where many schools don't host a meet at all, getting to run at home is extra special. Junior Brenna Ciesco made the most of the Bulldogs' home meet Saturday morning at Loudy-Simpson Park, winning the varsity girls race in 20 minutes and 42 seconds. The Bulldogs meet was a small affair, in stark contrast to some of the large meets they've attended this season. In the girls race, just Moffat County and Steamboat Springs participated, but that didn't make Ciesco's victory any less sweet.
September 22, 2012 3:29 p.m.