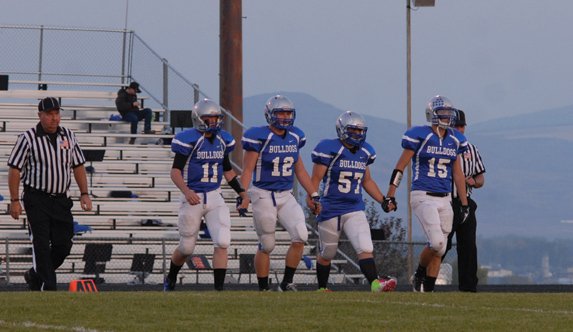 The Moffat County captains walk out onto the field for the coin toss. From left: Bubba Ives, Michael Samuelson, Zach Beachamp and Jarret Walt.
Stories this photo appears in:

In the end, there were just too many mistakes for Moffat County to overcome. The Bulldogs turned the ball over six times, and had a punt blocked to waste an excellent defensive performance in losing to Delta High School Friday at the Bulldog Proving Grounds, 21-14. A week ago the Bulldogs (2-2, 1-2 Western Slope League) defense was swarming and forcing mistakes out of Steamboat Springs. Again the defense delivered, forcing three turnovers and giving up just one drive of over 50 yards to the Panthers (3-1, 2-0), but it could not make up for the costly mistakes made by the offense. "It was 21-14, (we had) six turnovers," head coach Kip Hafey said. "We shot ourselves in the foot, there's no other way to look at it. It's hard to win a game when you turn the ball over six times."
September 21, 2012 11:50 p.m.