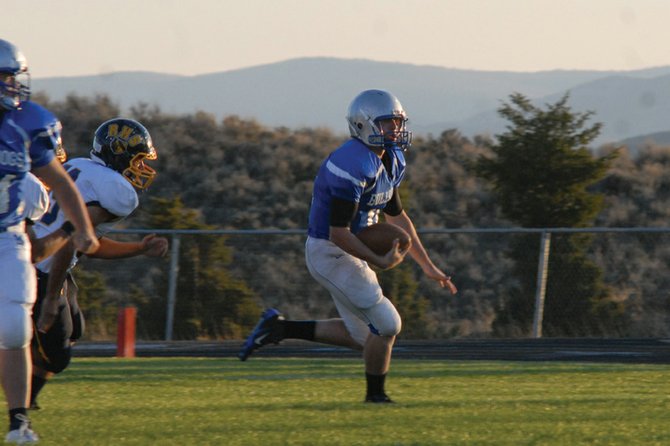 Quarterback Bubba Ivers carries the ball during Moffat County's last home game vs. Rifle High School. The Bulldogs play Delta at 7 p.m. Friday at the Bulldog Proving Grounds in another Western Slope League game.
Stories this photo appears in:

Moffat County prepping for another important league game Friday
Last year, after beating Delta 22-14, Moffat County was just 1-3, getting in the win column for the first time. This year, with a win over the Panthers (2-1, 1-0 Western Slope League) the Bulldogs would improve to 3-1, and perhaps be on their way to bigger and better things. The teams look similar beyond their records so far. Both boast a talented cast of offensive players, meaning defenses have to cover them all over the field. For the Panthers it starts with quarterback Mitchell Whiteside, who has completed nearly 60 percent of his passes while throwing for five touchdowns and just one interception this season. Whiteside is also a threat to run the ball, averaging 6.5 yards per carry on the season.
September 20, 2012 8:38 p.m.