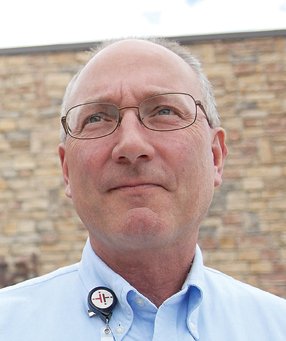 George Rohrich
Stories this photo appears in:

Rohrich to remain at TMH until QHR, hospital board identifies an interim CEO
George Rohrich, CEO of The Memorial Hospital in Craig for about seven years, resigned Friday according to a TMH news release. The announcement was made at around 2 p.m. Friday by the TMH Board of Trustees. An interim CEO will be onsite before Rohrich's resignation officially takes effect, said Jennifer Riley, chief of organizational excellence at TMH. Though there is no set timeline Riley expects the transition to happen sometime in the next couple of weeks.
Health care officials repond to questions about physician retention
We share intimate details with them, revealing parts of our body that we'd probably rather not. They earn our trust and sometimes our friendship. We put our faith in them to diagnose and heal our bodies. And then they leave. Physician retention in Craig, a major problem to some and expected by others, seems to have no clear cut answer.
September 16, 2012 3:37 p.m.