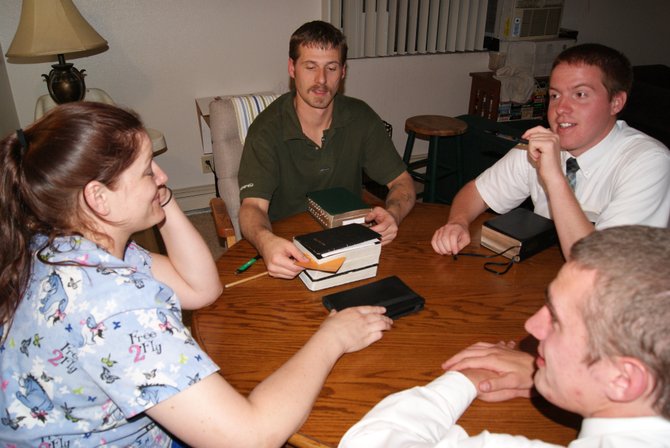 Nancy Vallem, far left, listens with boyfriend Ben Hawks as Elder Smith, far right and Elder Campbell, of the Church of Jesus Christ of Latter-day Saints, talk with them about things to work on during the week. Elders Smith and Campbell, missionaries stationed in Colorado, were at an appointment Wednesday at Vallem's apartment, and discussed topics such as fasting and tithing.
Stories this photo appears in:
Moffat County LDS members, officials from other churches debunk misconceptions about Mormon faith
Members of the Jesus Christ Church of Latter Day Saints stake at Craig, the Schnackenbergs hosted an open house for members of the community to come and ask questions about their religion. They acknowledged there is plenty of speculation surrounding their faith. And with presidential candidate, Mitt Romney, being a member of the Church of Jesus Christ of Latter Day Saints, questions have been raised as to the misconceptions and truths regarding the faith. Better known as Mormonism.
September 13, 2012 7 p.m.