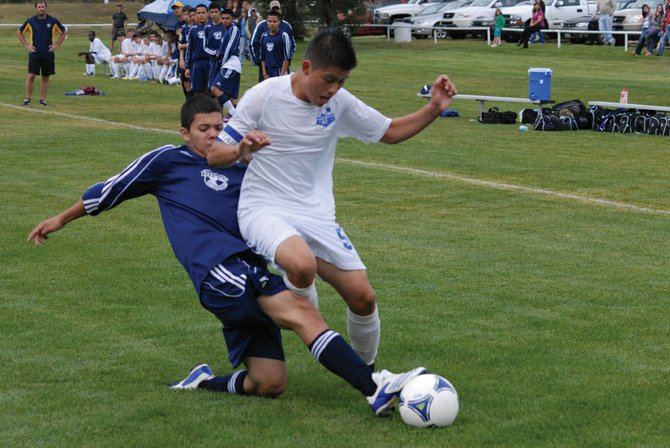 A Rifle High School player slides to knock the ball away from Moffat County High School junior Nestor Arrellano. Arellano scored a goal and assisted on another for the Bulldogs, but MCHS lost, 3-2, Tuesday at Loudy-Simpson Park.
Stories this photo appears in:

Giving up one bad goal is difficult enough to overcome in a low scoring soccer game. On Tuesday, the Moffat County High School boys soccer team gave up two bad goals in a 3-2 overtime loss to Rifle High School at Loudy-Simpson Park. In their home debut for the 2012 season, the boys team was treated to a rainy afternoon game, but played well for most of the game. After giving up an early goal to Rifle, the Bulldogs tied the game quickly, then took a lead which they held for most of the second half. But a poor clearance to the middle of the field resulted in an equalizing goal for the Bears with less than two minutes to play.
September 11, 2012 8:35 p.m.