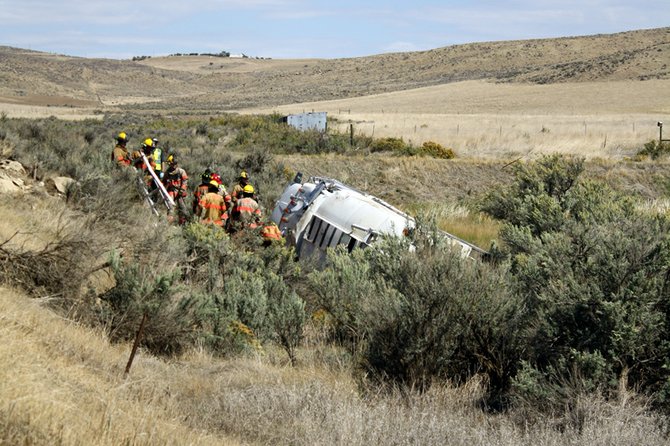 A Moffat County road and bridge water truck rests on its side Monday after it rolled off county road 64. The operator of the truck, a county employee, had to be extracted from the cab by Craig Fire/Rescue firefighters, but did not sustain serious injuries.
Stories this photo appears in:

Road and bridge employee requires extraction by Craig Fire/Rescue
Colorado State Patrol is investigating the cause of a one vehicle crash on Moffat County Road 64, about three miles west of Craig. According to preliminary reports from the CSP, a Moffat County road and bridge water truck, operated by a male county employee, drove off CR 64 and rolled into a ditch. The crash occurred about 11 a.m. Monday. It is unclear at this point if the truck rolled over and how many times, but it did come to rest on its right side about 30 feet below the roadway, the CSP reported. The truck leaked some diesel fuel as a result of the crash, but no waterways were affected, according to CSP officials.