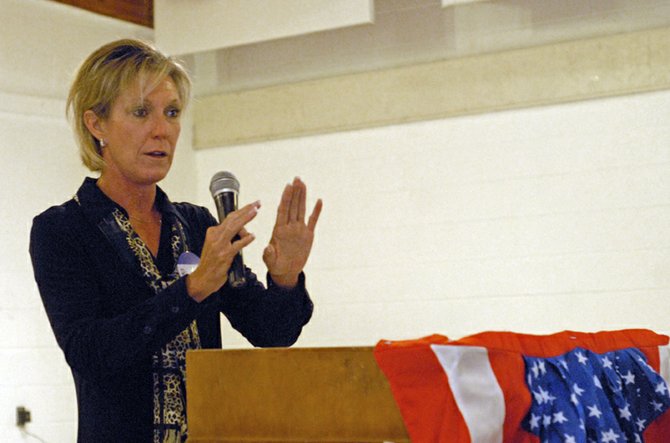 Dr. Kelly Victory addresses more than 60 people Thursday at the latest Bears Ears Tea Party Patriots meeting at the Center of Craig. Victory discussed Obamacare and what she believes it could do to the American health care system.
Stories this photo appears in:

Dr. Victory rips Obamacare during Bears Ears Patriots meeting
Healthcare took center stage Thursday when the Bears Ears Tea Party Patriots played host to Dr. Kelly Victory at the Center of Craig, 601 Yampa Ave. Victory holds a bachelor of sciences degree from Duke and Oxford universities, a masters in clinical psychology from the University of Illinois, and an MD from the University of North Carolina. She also is a member of Gov. Mitt Romney's healthcare policy team and is widely touted as an expert on American healthcare legislation. On Thursday she spoke to more than 60 people about Obamacare, which was advertised by Congressional Democrats to accomplish two goals, provide Americans with universal healthcare and bend the cost curve. Victory compared healthcare coverage to a three-legged stool, with each leg representing cost, quality and access.