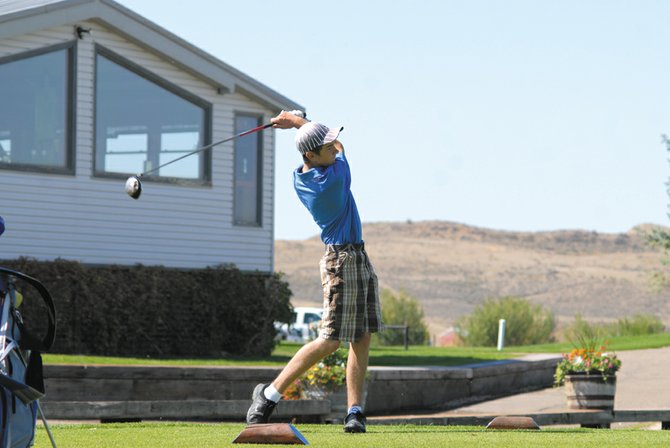 Moffat County High School sophomore Casey Nations tees off the 10th hole at Yampa Valley Golf Course. Nations and the Bulldogs were playing at their home tournament against 12 other high school teams Wednesday.
Stories this photo appears in:

Even without any standout individual performances, the familiarity of a home course led the Moffat County High School boys golf team to a season-best. The Bulldogs, playing in their home tournament at Yampa Valley Golf Course Wednesday, shot a varsity team score of 295, five strokes better than their previous best on the season. While 295 was only good enough for 10th out of the 13 varsity teams attending, head coach Casey Kilpatrick was pleased with his players' performances. "That's another one of those scores where we're getting lower, little by little," Kilpatrick said. "I'm happy with the varsity team in that even though we didn't have one really low score, they all scored pretty consistently and that helped us get a little lower than our previous team best score."
September 5, 2012 7:34 p.m.