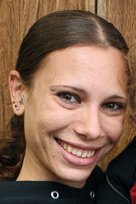 Kia Fisher
Stories this photo appears in:
Craig resident recalls time spent as teen caregiver
Cancer can reach far beyond the person whose body it invades and spread ill effects to those thrust into the role of caregiver, taking an emotional and physical toll on them as well. At 15 years old, Kia Fisher found herself in that position when she learned her mother, Janice Fisher, was diagnosed with breast cancer. Kia spent ten years as her mother's primary caregiver in New Jersey, before Janice passed when Kia was 26. "Basically at the age of 16, when I was learning how to drive, I was taking my mom to and from chemotherapy, surgeries," Said Kia, who now lives in Craig. "I was cooking, cleaning I was the parent basically. To learn to drive is stressful enough, but when you're driving with a parent who's receiving chemotherapy, it makes the situation a little different." Kia said her mother went into remission three times over the ten-year period, with the cancer coming back stronger than ever each time.
October 25, 2012 10:46 p.m.