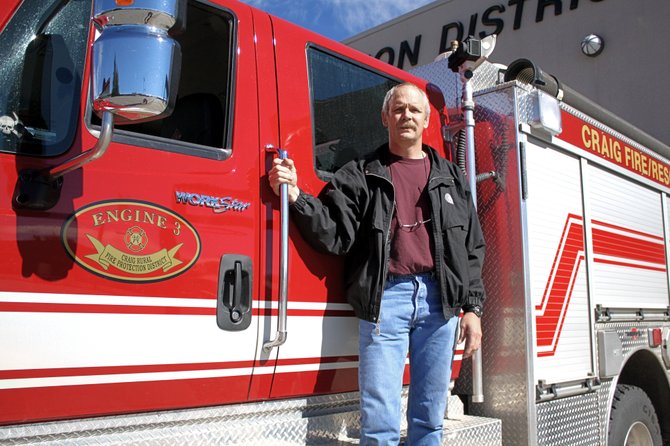 Battalion Chief Dennis Jones stands on Craig Fire/Rescue's Engine 3 for what could be the last time. Jones on Thursday officially announced his retirement from the fire department after 23 years of service. His last day is Friday, Oct. 26, which also is Jones' 53rd birthday.
Stories this photo appears in:

Few things get the blood pumping harder than the sound of a late night page, the whirring of a siren or chasing after a cloud of smoke out on the distant horizon. Craig Fire/Rescue is an organization that not only prides itself on recruiting, training and retaining high quality firemen and women, but also for attracting thrill seekers and adrenaline junkies to join its ranks. And for more than two decades one name has been synonymous with the Craig fire department. But Battalion Chief Dennis Jones, 52, said Thursday he wasn't looking for a thrill when he reported to the Craig fire station for the first time on Oct. 26, 1989, which coincidentally also was his 30th birthday.