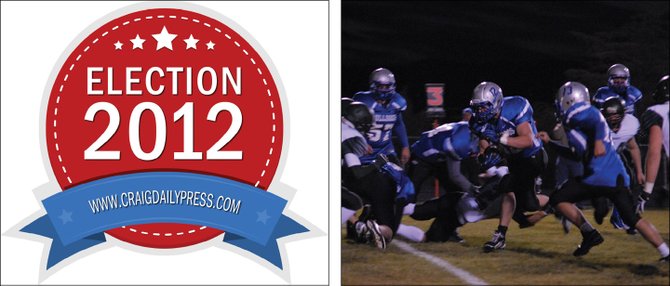 Craigdailypress.com tonight offers a twin bill of live streaming events: a candidate forum slated for 5:30 p.m. at JW Snacks, and the MCHS football game against Glenwood Springs slated for 7 p.m. at the Bulldog Proving Grounds.
Stories this photo appears in:

Live online streams of debates, football game offered
It's a busy night in Moffat County. To start, many state and local candidates are participating in one of the few remaining debates before the November general election. The event, slated to begin at 5:30 p.m. at JW Snacks, 210 E. Victory Way, kicks off with a debate between Republican Dave DeRose and unaffiliated candidate John Kinkaid for Moffat County Commission's District 1 seat. Following DeRose and Kinkaid will be a debate for Moffat County Commission's District 2 seat between Republican Chuck Grobe and American Constitution Party candidate Rick Barnes. Both debates will last 30 minutes each, follow no specific format, and feature questions focused on a variety of topics including, natural resources, economic development, governance, tourism, education, and county relations.
October 11, 2012 5:15 p.m.