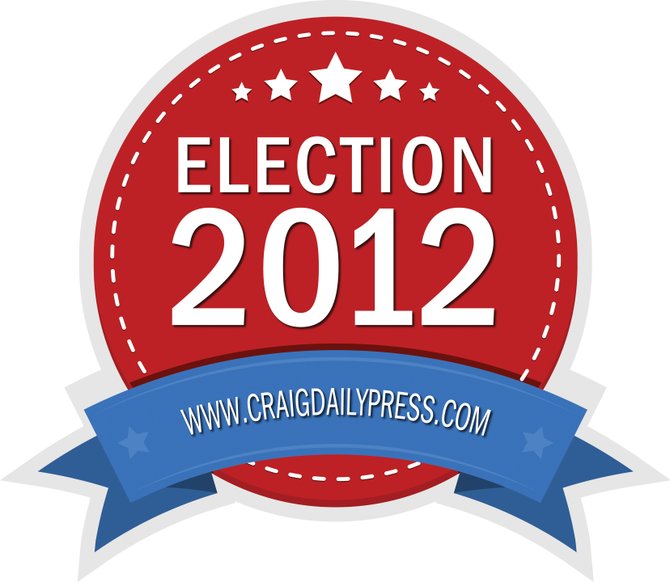 Stories this photo appears in:
During a debate Thursday at JW Snacks in Craig, candidates who weren't debating had an opportunity to address Moffat County voters and discuss issues important to their races. Colorado House District 57 Rep. Randy Baumgardner, R-Cowdrey, who is running for Colorado Senate District 8, could not make the debate and sent a surrogate to speak briefly to the crowd on his behalf. His surrogate, local resident Rod Durham, read a written speech by Baumgardner that cited his experience as a small business owner, rancher and as a state legislator for rural Colorado, representing issues important to the community. Durham also talked about why he supports Baumgardner.

Education highlighted as primary issue dividing candidates
There's officially less than a month until the November general election. And with the final push well under way, numerous state and local candidates participated Thursday in one of the last candidate debates of the 2012 campaign season at JW Snacks, 210 E. Victory Way, in Craig. Moderated by Craig Daily Press editor and publisher Bryce Jacobson, the debates concluded with the race for Colorado House District 57 between hometown Democrat Jo Ann Baxter and Carbondale Republican Bob Rankin. The candidates fielded more than 50 minutes of questions on topics ranging from jobs and the economy to energy and natural resources. Baxter and Rankin have each said over the course of the campaign that they share similar views on a good portion of the issues, education not being one of them.

Republican Chuck Grobe and Rick Barnes, member of the American Constitution Party, both running for Moffat County Commissioner District 2, said they would listen and get back the voice of Moffat County residents during a debate Thursday night at J.W. Snacks in Craig.
It was a festive atmosphere Thursday night, but the mood was no less tense as numerous state and local candidates participated in an evening of debates at JW Snacks in Craig. The night began with a faceoff between Republican Dave DeRose and unaffiliated candidate John Kinkaid,, who are vying for Moffat County Commission's District 1 seat. Bryce Jacobson, editor and publisher of the Craig Daily Press, served as moderator for the debate. The questions focused on local issues pertaining to economic development, natural resources, energy, governance and county relations.