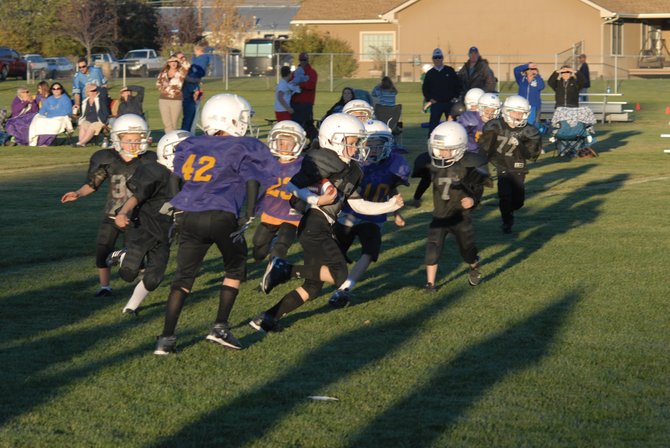 Joe Campagna (No. 10) carries the ball on a kick return Monday during the Raiders (black) and Vikings (purple) third/fourth grade Parks and Recreation game. Campagna would score on the return, but the Vikings would prevail, 34-32
Stories this photo appears in:

While the high school football postseason is still several weeks off, the youth teams in Craig got underway Monday. Craig Parks and Recreation Doak Walker football leagues, which started their regular seasons in late August, began the playoffs with the fourth vs. fifth place game in the third and fourth grade league at 5:15 p.m. in Woodbury Sports Complex. If the playoffs' first game was any indication, it will be a wild week. The Vikings, sponsored by Carelli's, took on the Raiders of the Craig Police Dept. with a chance to play once more in the four-team playoffs Wednesday.
October 8, 2012 11:28 p.m.