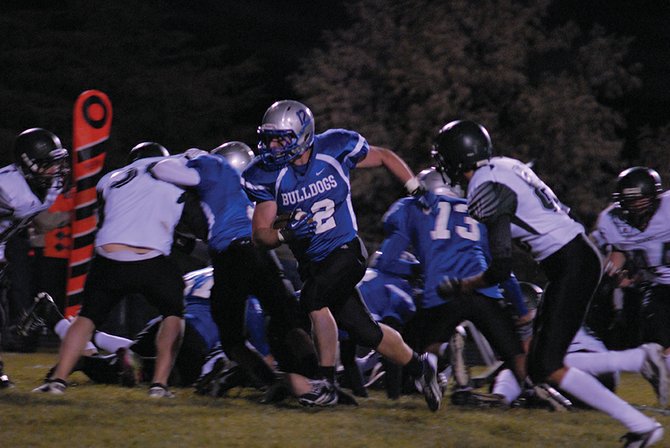 Michael Samuelson breaks through the line during the first half of Friday night's game vs. Summit at the Bulldog Proving Grounds. The Bulldogs used dominant defense and a potent running attack to win, 33-0.
Stories this photo appears in:

From the action on the field to the cheerleaders' and band's halftime performances, Moffat County would not be denied a good homecoming game. The Bulldogs turned a clinical defense performance into a 33-0 win over Summit County to complete a perfect homecoming week in varsity sports. After a slow offensive start which saw the Bulldogs punt and then turn the ball over, Moffat County got the spark it needed in the form of a turnover. While Summit running back Nic Berry was fighting for yardage in a pile, senior Garrett Stewart snuck in behind him and stripped the ball, then fell on it. On the next play, Michael Samuelson rumbled for 38 yards and the Bulldogs were in business.
October 6, 2012 12:26 a.m.