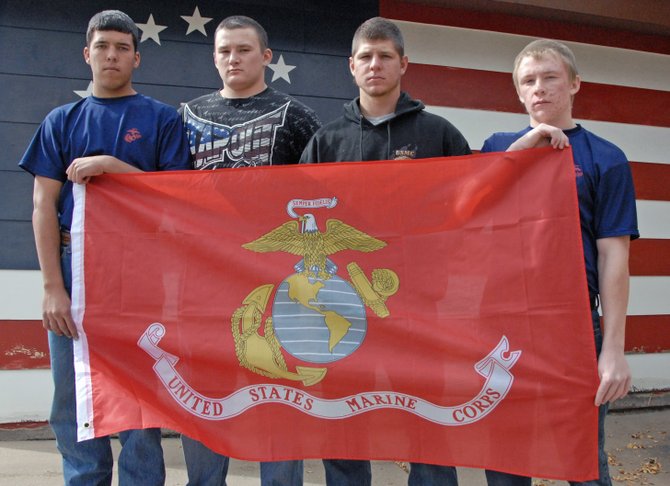 Four Moffat County resident, from left, Jesse Maneotis,17, Zach Hansen,18, Tyler Ripka, 18, and Pat Thompson,18, recently enlisted in the United States Marine Corps. Hansen and Thompson depart for boot camp Sunday. Ripka departs in December and Maneotis leaves in June 2013 following his graduation from Moffat County High School.
Stories this photo appears in:

4 Moffat County men prepare for U.S. Marine Corps. service
There are certain qualities every serviceman and servicewoman shares — a sense of duty, honor and tradition. Though they are like qualities found throughout the four branches of the military, how those characteristics are defined are as unique as each person who makes the commitment to wear the uniform. On Sunday two 2012 Moffat County High School graduates — Zach Hansen, 18, and Pat Thompson, 18 — depart for United States Marine Corps. boot camp. They will be followed in December by Tyler Ripka, 18, also a 2012 MCHS graduate, and in June 2013 by Jesse Maneotis upon his high school graduation.