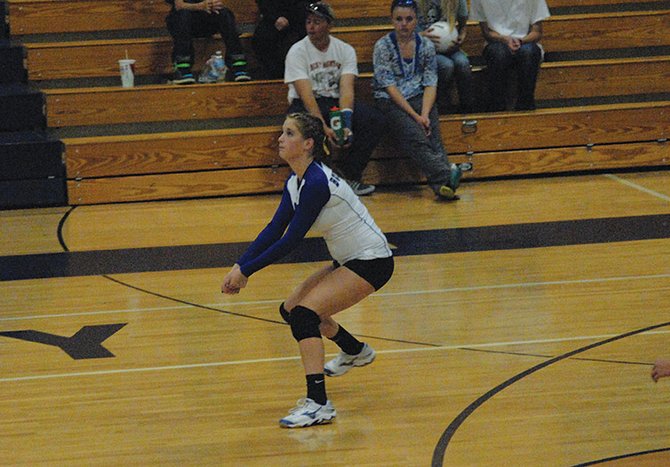 Junior Allie Ehlers prepares to dig the ball Tuesday night during the Moffat County volleyball team's match at MCHS. The Bulldogs won in five sets, and Ehlers led the way with 13 kills.
Stories this photo appears in:

It was more tense than it needed to be, but the Moffat County volleyball team did its part to get homecoming week going. The Bulldogs (3-11) beat Grand Valley (6-7) in a wild five set match Tuesday night in the MCHS gym, 25-23, 25-18, 29-31, 21-25, 15-4. They earned the win while overcoming more than just their opponents. After the first two sets, it looked like a comfortable win was on the way for Moffat County. They had been the stronger team, especially in the second set when they took a lead early and pulled away at the end of the set. But in the third set, a point was taken from Moffat County due to their lineup being incorrect. Head coach Sandy Camilletti explained it was her fault after the match.
October 2, 2012 10:38 p.m.